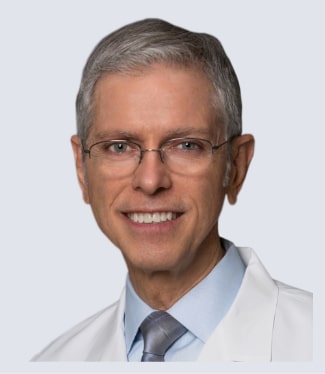 Randal Henderson, MD, MBA
Associate Medical Director
Dr. Henderson is a Professor in the Department of Radiation Oncology in the University of Florida College of Medicine and the Associate Medical Director at the UF Health Proton Therapy Institute. Dr. Henderson also served in the U.S. Army Medical Corps, and was the Assistant Chief of Radiation Oncology at Walter Reed Army Medical Center.
Dr. Henderson has been recognized as a "Best Doctor" in multiple publications throughout his career and is involved on the Board of Directors of the Florida Society of Clinical Oncology (FLASCO). His focus on research is evident in the more than 60 peer-reviewed articles he has published. Dr. Henderson has shared his passion for research and improving patient outcomes at over 100 local, national and international conferences and educational events. His recent research focuses on improving outcomes for prostate cancer patients.
Certification
Board Certification
Radiology – Therapeutic – American Board of Radiology
Education
Masters of Business Administration
Georgia State University, Atlanta, GA
Residency - Division of Radiation Therapy
University of Florida, Gainesville, FL
Internship - Internal Medicine
William Beaumont Army Medical Center, El Paso, TX
Medical Degree
Texas Tech University of Health Sciences Center, Lubbock, TX
Graduate Studies – Pre-med
Abilene Christian University, Abilene, TX
Bachelors of Arts
Abilene Christian University, Abilene, TX
Undergraduate Studies
Lubbock Christian University, Lubbock, TX
Dr. Henderson's research interest focuses on improving outcomes for prostate cancer patients treated with proton radiation therapy. He has published articles looking at the long-term outcomes of radiation for prostate cancer and patient reported side effects, including the "Consensus Statement on Proton Therapy for Prostate Cancer" published in the International Journal of Particle Therapy. He has been the Principal Investigator on multiple prospective clinical research trials, and he participates in collaborative research through the Proton Collaborative Group. Dr. Henderson also serves as a Co-Vice Chair of the Scientific Review and Monitoring Committee for the University of Florida Cancer Center.
Active Research Studies
Postoperative or Salvage Radiotherapy for Node Negative Prostate Cancer Following Radical Prostatectomy
RadTox II: Prospective Observational Exploratory Clinical Study to Determine the Assay Cut-Off for the RadTox Test in Prostate Cancer Patients to Predict Gastrointestinal Radiation Toxicity Using Circulating Cell Free DNA Directly from Plasma
A Phase II Trial of Escalated Dose Proton Radiotherapy with Elective Nodal Irradiation and Concomitant Chemotherapy for Patients with Unresectable, Borderline Resectable or Medically Inoperable Pancreatic Adenocarcinoma
A Prospective Comparative Study of Outcomes with Proton and Photon Radiation in Prostate Cancer (COMPPARE)
Named a "Best Doctor"
Jacksonville Magazine (2016, 2021)
Recognized as a "Best Doctor"
Castle Connolly Medical Ltd, Featured in US News & World Report and Newsweek Health (2013-Present)
Named a "Health Care Hero"
Jacksonville Business Journal (2012)
What does your work at UF Health Proton Therapy Institute mean to you?
"I am grateful to work with such an outstanding team of physicians and staff to provide our patients with this advanced treatment technology in a welcoming and supportive environment. I have found a great deal of personal fulfillment in the long-term relationships with patients who have trusted us with their cancer care."
Find Dr.Henderson's publications through PubMed*
*Please note, the resulting PubMed entries may not reflect a complete or accurate listing for faculty members. Many journals are not indexed by PubMed, and there may be articles by other authors of the same name listed for each search.
Patient Reviews
Overall Rating (278 reviews)
Comments (5 newest)