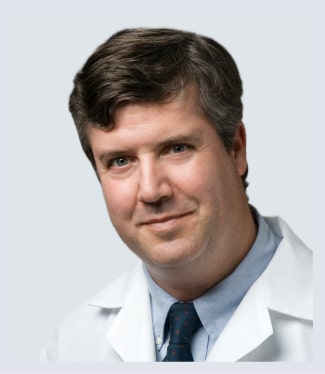 Romaine Charles Nichols, Jr., MD
Physician
Dr. Romaine Nichols is an Associate Professor in the Department of Radiation Oncology in the University of Florida College of Medicine. He has published over 75 peer-reviewed publications and one book chapter, in addition to the many abstract contributions to respected oncology journals such as the Journal of Gastrointestinal Oncology and the International Journal of Radiation Oncology, Biology, Physics. 
A University of Florida Department of Radiation Oncology faculty member since 2008, he serves as the Radiation Therapy Oncology Group (RTOG) Principal Investigator for both the Jacksonville and Gainesville campuses of the University of Florida College of Medicine. Prior to joining UF Health Proton Therapy Institute, he served as medical director of the Bay Medical Regional Cancer Center in Panama City, Florida. Dr. Nichols is also committed to educating fellow oncology professionals and the community through the over 90 talks he has had the honor of giving.
Certification
Board Certification
Radiation Oncology – American Board of Radiology
Education
Residency - Division of Radiation Therapy
University of Florida Shands Hospital, Gainesville, FL
 
Internship – Internal Medicine
Monmouth Medical Center, Long Branch, NJ
Medical Degree
Georgetown University Medical School, Washington, DC
Bachelor of Arts – Economics/Mathematics
Georgetown University College of Arts and Sciences, Washington, DC
Dr. Nichols' research focuses on improving treatment outcomes for patients with prostate and gastrointestinal cancers. His publication, "Proton therapy for pancreatic cancer" in the World Journal of Gastrointestinal Oncology, presents the unique opportunity for proton therapy's potential to change the management of pancreatic cancer patients. In addition, Dr. Nichols does extensive research on the benefits of proton therapy for cancers of the lung and prostate, including ways to improve patient quality of life after radiation treatment. 
Active Research Studies
A Phase II Trial of Escalated Dose Proton Radiotherapy with Elective Nodal Irradiation and Concomitant Chemotherapy for Patients with Unresectable, Borderline Resectable or Medically Inoperable Pancreatic Adenocarcinoma
A Phase II Study of Dose-Escalated Proton-Based Radiation Therapy Delivered with a Simultaneous Integrated Boost (SIB) to Intraprostatic Tumors (IPT) Visible on Pretreatment Magnetic Resonance Image
Postoperative or Salvage Radiotherapy for Node Negative Prostate Cancer Following Radical Prostatectomy
RadTox II: Prospective Observational Exploratory Clinical Study to Determine the Assay Cut-Off for the RadTox Test in Prostate Cancer Patients to Predict Gastrointestinal Radiation Toxicity Using Circulating Cell Free DNA Directly from Plasma
A Prospective Comparative Study of Outcomes with Proton and Photon Radiation in Prostate Cancer (COMPPARE)
2016 Best Doctor
Jacksonville Magazine (2016)
Top Doctors Recognition
US News (2011-2013)
Chief Resident
University of Florida Shands Hospital (1991-1992)
Howard Strauss Cardiology Award
Monmouth Medical Center (1989)
Clinical Informatics Award
Georgetown University School of Medicine (1987)
What does your work at UF Health Proton Therapy Institute mean to you?
"I am proud to be a part of an institution that provides the highest quality cancer care to patients while, through research, continues to advance the science of proton therapy."
Find Dr.Nichols's publications through PubMed*
*Please note, the resulting PubMed entries may not reflect a complete or accurate listing for faculty members. Many journals are not indexed by PubMed, and there may be articles by other authors of the same name listed for each search.
Patient Reviews
Overall Rating (266 reviews)
Comments (5 newest)