Global objectives of UFHPTI Radiation Oncology Physics Residency Program:​​
Providing clinical training in the field of Radiation Oncology Physics that will prepare the residency graduates for the appropriate certification by the American Board of Radiology and/or the American Board of Medical Physics and, subsequently, for a successful independent clinical practice and a long career as a medical physicist.
Educating medical physics residents on how to apply their academic knowledge and analytical skills towards ensuring high quality medical care in a radiation oncology clinic. We consider it one of the goals of our program to encourage development of a well-rounded, highly professional individual who is capable of taking a leadership role in advancing the field of radiation oncology physics.
Training Facility
The UF Health Proton Therapy Institute is a multi-modality radiation treatment center. It opened in 2006 as the 4th multi-room clinical proton therapy facility in the United States and has thus far successfully treated over 10,000 patients. Click here to view our facility.
The Institute's proton therapy delivery techniques include double scattering and intensity-modulated pencil beam scanning, as well as the dedicated eye treatment room with a single scattering fixed snout. CBCT image-guided Proton Therapy went clinical starting with a single room and completed expansion into two additional gantry rooms in 2019. An additional single-room proton system by IBA with pencil beam scanning proton beam and patient positioning using CBCT also began clinical operations in 2019.
The UF Health Proton Therapy Institute's scope of megavoltage photon therapy equipment is comprised of linear accelerators from multiple vendors (2 Elekta™ and one Varian™). Our linacs are equipped with cone beam CT (CBCT) and deliver treatments ranging from 3DCRT, IMRT/IGRT to SBRT and SRS. The majority of our patients are treated with field-in-field or IMRT IGRT. The TrueBeam™ linac by Varian is equipped with 6 and 10 MV treatment energies, HD MLC and flattening filter free (FFF) delivery. The TrueBeam workflow includes patient six degree-of-freedom (6 DoF) positioning by CBCT as well as ExacTrack™ system and a robotic table; gated treatment delivery using Real-time Position Management (RPM) system is available.
The UF Health Proton Therapy Institute offers low-dose rate (LDR) brachytherapy treatments using Cs-137 and Ir-192 sources. In addition, the UF Health Proton Therapy Institute's physics residents receive training in HDR Brachytherapy, Radiopharmaceuticals and special procedures (such as TBI and TSET) at the UF Gainesville campus. Corresponding Rotation Supervision and Evaluation is done by designated medical physics faculty mentors at UF Gainesville. During this external Rotation, the Institute's Residents' out-of-town living expenses are covered by the "home" program. UF Gainesville campus is located approximately 70 miles from the UF Health Proton Therapy Institute. 
Our Medical Physics Residency Program: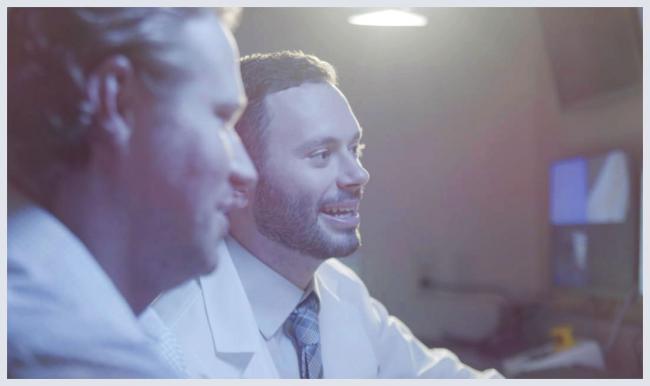 Request more information about the Medical Physics Residency program.