The Radiation Oncology Physics Residency Program at UFHPTI is a training program in Radiation Therapy medical physics.
The global objective of the Radiation Oncology Physics Residency Program at UFHPTI is trifold:
"Hit the ground running." Providing clinical training in the field of Radiation Oncology Physics that will prepare our residency graduates for certification by the American Board of Radiology and a successful independent clinical practice. 
"Making the most of academic knowledge and analysis skills to benefit current and future patients." Educating medical physics residents on how to apply their academic knowledge and analytical skills towards ensuring safety and high quality of medical care in a constantly evolving field of radiation oncology. 
"Career longevity." We consider it one of the main goals of our program to enable development of a well-rounded professional capable of taking a leadership role in advancing radiation oncology as a field. This comes with deep understanding of integrative role of a medical physicist in radiation oncology and ability to communicate with various clinical teams efficiently and effectively. 
Training Facility
UFHPTI is a multi-modality radiation treatment center. Opened in 2006, the Institute to date (September 2023) has treated more than 11,000 patients from 34 different countries. UFHPTI is an integral part of the UF Health Cancer Center which is an NCI-Designated Cancer Center and a three-time recipient of the Cancer Center of Excellence Award from the State of Florida. UFHPTI was the first proton center in the south to be accredited by the American College of Radiology. UFHPTI provides radiation oncology services to patients of all ages and with all radiation indications, including patients with pediatric, head and neck, CNS, breast, urologic, pulmonary, gastrointestinal, eye, skin, recurrent cancers as well as sarcoma, lymphoma, oligometastases, and benign tumors. 
UFHPTI's proton therapy delivery techniques include single scattering, double scattering and intensity-modulated therapy via pencil beam scanning (PBS). The initial system installed in 2005 consists of a cyclotron (ProteusPLUS cyclotron by IBA), three rotational gantries and one fixed-beam room. In 2019, UFHPTI added a second proton accelerator (ProteusONE synchrocyclotron) with a rotational gantry. This was part of a $44 million expansion and upgrade project that has enhanced UFHPTI's ability to deliver PBS treatments and provided for various upgrades to our original proton system. Currently, out of UFHPTI's four rotational gantries, three have PBS (one is currently under the post-upgrade acceptance testing and commissioning process) and one is equipped to provide double scattering beams. The fifth room is equipped with a fixed single scattering beam for the treatment of cancers of the eye. All four rotational gantry rooms are equipped with CBCT to deliver image-guided proton radiation therapy, while the fixed beam room operates using kV orthogonal images. 
UFHPTI's scope of megavoltage photon therapy equipment is comprised of multiple linear accelerators from multiple vendors (2 ElektaTM and one VarianTM). Our linear accelerators are equipped with cone beam CT, with patient treatment techniques ranging from 3DCRT, IMRT/IGRT to SBRT and SRS. TrueBeamTM linear accelerator by Varian is equipped with 6MV and 10MV treatment energies, HD MLC and flattening filter free (FFF) delivery. The TrueBeam room includes patient six degree-of-freedom (6DoF) positioning by CBCT and a robotic table; gated treatment delivery using Real-time Position Management (RPM) system is available. Elekta accelerators are 2005 Elekta Precise models, equipped with standard MLC and CBCT. Both machines have identical set of treatment options including three megavoltage photon and five electron energies. Currently, UFHPTI and UF Health Jacksonville (UFHJAX) are in a process of discussing replacement strategies for these two machines, with a new linear accelerator purchase expected within two to three years. 
UFHPTI has accumulated a long history of low-dose rate (LDR) brachytherapy treatments using Cs-137 (T&O) and Ir-192 sources (Syed, currently offered). 
UFHPTI patient simulation suite currently consists of the following: Philips Brilliance CT Big Bore, Panorama 0.23T MRI and Gemini GXL PET CT. Philips Brilliance CT Big Bore has underwent a major upgrade in 2021. 
Currently, UFHPTI employs RaystationTM as a treatment planning system for majority of available treatment modalities, with EclipseTM being utilized for LDR brachytherapy. 
UFHPTI medical physics residents are involved in all aspects of machine commissioning and periodic quality assurance, clinical treatment planning and treatment planning system (TPS) quality assurance and commissioning tests. 
In addition, UFHPTI physics residents receive training in HDR Brachytherapy, Radiopharmaceuticals and special procedures such as TBI and TSET, provided at the UF Gainesville campus. Rotation supervision and evaluation is done by designated medical physics faculty mentors at UF Gainesville. During this external Rotation, UFHPTI Residents' out-of-town living expenses are covered by the 'home' (UFHPTI) program. UF Radiation Oncology Department in Gainesville, Florida is located approximately 70 miles from UFHPTI. It offers Linac-based 3DCRT, IMRT/IGRT, VMAT, SBRT, SRS, MRI-guided RT, Total Body Irradiation, Total Skin Electron Therapy; orthovoltage radiotherapy, HDR remote afterloading brachytherapy and an assortment of radiopharmaceutical therapy treatments. 
Our Medical Physics Residency Program: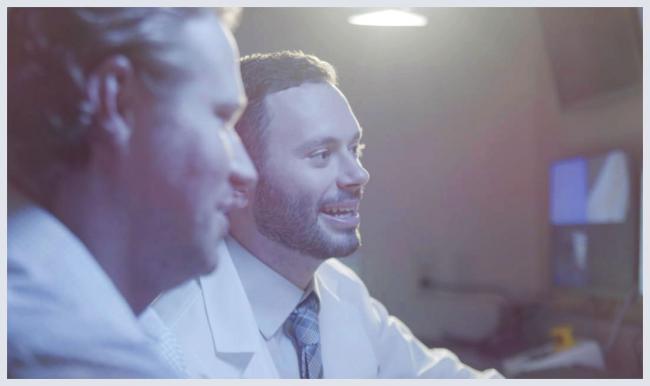 Request more information about the Medical Physics Residency program.