The Confident Choice for Cancer Treatment: Before, During and After.

At the University of Florida Health Proton Therapy Institute, patients are guided through each step of the treatment process with compassion, understanding and unequaled expertise.

No two patients experience cancer the same way. That's why, at the UF Health Proton Therapy Institute, we provide each patient with a treatment plan that fits his or her individual needs at every step. Your personal team of physicians, nurse case managers, therapists, physicists, clinical social workers and intake specialists will work together to care for you along the way.

First, we'll schedule a consultation visit with one of our physicians. During this visit, you'll meet with a nurse case manager and a radiation oncologist to determine if your case is appropriate for radiation therapy. If it is, we'll determine the most effective type of radiation for your type of cancer: proton therapy, conventional therapy, or brachytherapy.

Next, we'll schedule a simulation visit. At that visit, your treatment simulation will be conducted on an MRI (Magnetic Resonance Imaging), CT (Computed Tomography) scanner or PET (Positron Emission Tomography) device. All three imaging modalities are available on-site.

Your doctor will use these simulation images in conjunction with sophisticated dose-calculating software to determine your most effective treatment with the lowest risk of side effects.
During Treatment
As you arrive for treatment each day, you'll let us know you've arrived by passing your patient identification card through our barcode scanner. Your comfort is important to us, so you're welcome to enjoy complimentary coffee or tea, the reading room equipped with Internet access and social interaction with fellow patients in the lobby until you're escorted to our treatment area.
Once you've entered the treatment area, you'll recline on a large device with parts that rotate around your body. These parts allow radiation therapists to deliver proton therapy from any angle. The radiation therapists will use lasers, customized molds and other devices to ensure that you're in the correct position for treatment.
Although daily visits average anywhere from 15 to 45 minutes, most of that time will be spent verifying your correct body position. It only takes about one to three minutes to deliver the proton therapy to your body. You won't see or hear the proton beam, but you may hear the clicks and whirrs of treatment machinery, like the gantry. When your treatment is completed, you'll be escorted to the dressing room and back to the lobby.
Once each week, you'll meet with your radiation oncologist and nurse case manager to address any issues or questions, and to make any necessary changes to your treatment plan. Our medical team is available to you throughout treatment and even after you have completed your course of radiation. If questions arise in between your weekly on-treatment visit or post-treatment in the future, your central point of contact is your nurse case manager who will assist with answers and addressing concerns.
After Treatment
After your course of proton therapy is complete, we'll follow up with you periodically to evaluate your progress and gather data for clinical trials. Your doctor will recommend the best follow-up plan for you, depending on the type of cancer you had. Some patients are seen at three months, some at six months, and others at twelve months. Your physicians and nurses will still be available to address your questions or treatment-related health concerns at anytime after treatment.
We look forward to celebrating with you as you ring the eight-foot Aud's Chime in the main lobby signaling treatment completion. This chime is named in honor of our first Australian patient Audrey Anderson, whose family first envisioned it as a way for all patients to commemorate the occasion of their final treatment day. Audrey became the first official ringer in 2013, after traveling back from Australia with her mother for its official unveiling.
As a "proton alum" you can count on us for continuing care. We appreciate that you have entrusted us with your medical care and strive to be the cancer treatment and facility you choose and recommend.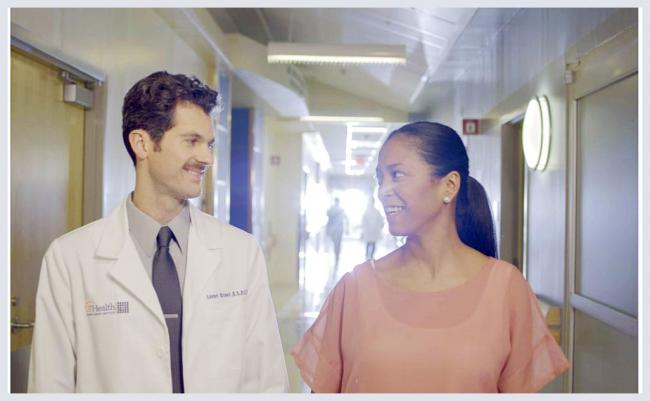 Learn more about the benefits of proton therapy
Contact us to see if proton therapy is right for you.