When lung cancer is diagnosed, our experts collaborate together to evaluate every aspect of care. Since lung cancer and its treatment has the potential to affect so many critical structures in a sensitive area of the body, it is important to protect the surrounding healthy tissues from excess radiation. The precision and targeted aspect of proton therapy enables our physicians and care team to deliver optimal radiation treatment to lung cancer tumors while avoiding the healthy lung, heart and esophagus.
Lung cancer can be detected with chest X-rays, computerized chest tomography (CT), or positron emission tomography (PET). A biopsy is required to confirm the diagnosis.
Once lung cancer is diagnosed, curative approaches are attempted when the tumor is confined to the chest. For Early-Stage I-II tumors that haven't moved to the lymph nodes, surgery or radiotherapy alone are considered. For patients whose tumors have moved to the lymph nodes (Stage III) combining proton therapy and/or radiotherapy with chemotherapy is preferred. Sometimes, surgery is discussed.
The Advantages of Proton Therapy for Lung Cancer Treatment
When treating lung cancer with traditional radiation, it can be difficult to deliver maximally effective treatment without risking damage to healthy tissue. By using proton therapy for lung cancer treatment, physicians are able to deliver highly effective and very precise doses of protons to the exact location of the lung cancer.
Proton therapy for lung cancer is now considered a treatment option for patients whose cancer is limited to the chest. Trials performed at the University of Florida Health Proton Therapy Institute demonstrate that proton therapy offers reduced normal lung, esophageal and heart exposure when compared with conventional photon (X-ray) therapy.
Reducing lung exposure is important because it allows oncologists to increase the radiation dose delivered to the sites of lung cancer without increasing the risk of lung injury. Reducing heart exposure through precise, targeted treatment is another major benefit that is unique to proton therapy. Reducing esophageal exposure can prevent problems with eating and drinking after treatment.
Proton therapy is available for two main groups
Patients with lung cancer or tumors of the lung that have not spread outside of the chest.
Patients with cancer recurrence in the chest after previous treatment whose cancer has not spread outside of the chest
The Institute is currently unable to offer proton therapy for lung cancer that has spread to the bone, brain or liver.
PATIENTS MAY BE ASKED TO PROVIDE ONE OR MORE OF THE FOLLOWING PIECES OF INFORMATION FOR THERAPY EVALUATION:
A brief medical history including dates of biopsies and or surgeries
A pulmonary function test report
A weight loss history
A PET scan report as well as images on compact disk
A pathology report (if available)
A specialized team for strategic and effective treatment
Proton therapy at the UF Health Proton Therapy Institute is offered as part of a multidisciplinary program involving input from medical oncologists, pathologists, pulmonologists, thoracic surgeons, and diagnostic radiologists.
Cases are usually discussed at a multidisciplinary thoracic oncology meeting on Thursday morning where treatment recommendations are made. All physicians at the UF Health Proton Therapy Institute and Shands Jacksonville are University of Florida Health faculty.
Cancer Treatment Specialist(s)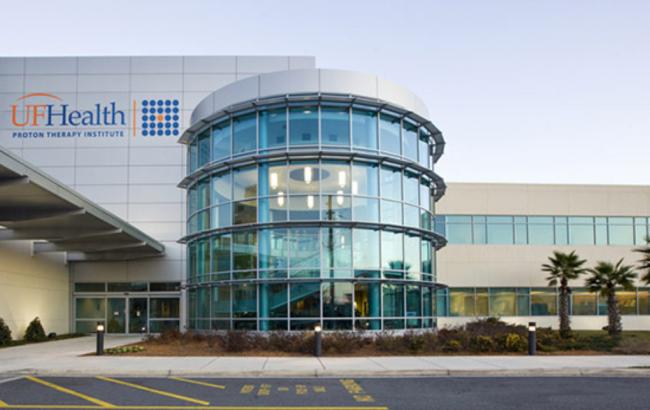 Find out if you are a candidate for proton therapy today.
Proton therapy is effective in treating many cancer types.