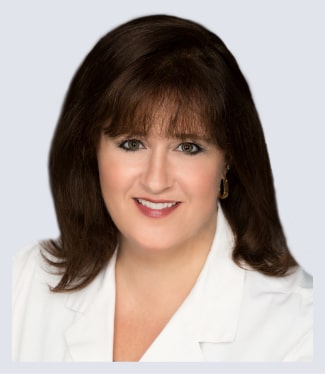 Teena Burchianti, MSN, APRN, ANP-BC, OCN®
Radiation Oncology Nurse Practitioner
Teena Burchianti, MSN, APRN, ANP-BC, OCN®, is an advanced practice registered nurse with more than 30 years of experience in oncology nursing. She provides expert survivorship care and education to breast and gynecologic cancer patients at UF Health Proton Therapy Institute. Teena collaborates with the radiation oncologists in the assessment, evaluation and treatment of patients during and after proton therapy.
A recognized leader in oncology nursing, Teena is frequently an invited presenter at cancer support groups and an author of care protocols and training for nurses. She is dedicated to training the newest generations of nursing students and has been an APRN Radiation Clinical Preceptor for nurses pursuing their Master or Doctor of Nursing.
Teena knows that research is essential to improving quality of life for patients receiving radiation therapy and is active in the clinical studies at UF Health Proton Therapy Institute. With her focus on treatment outcomes for patients with breast cancer, Teena participates in studies assessing ways to predict and reduce radiation toxicity to healthy organs surrounding the breast tissue, including the lung and heart.
Teena is a member of many professional organizations including the Oncology Nursing Society's Nurse Practitioner Special Interest Group, the Florida Nurse Practitioner Network (FNPN), the American Academy of Nurse Practitioners and the Florida Nurses Association.
Certification
ANCC Board Certified Adult Nurse Practitioner
Oncology Nursing Society Oncology Certified Nurse (OCN®)
Education
Master of Science in Nursing – Adult ARNP Program with Oncology Focus
University of Florida, Jacksonville/Gainesville, FL
Bachelor of Science in Nursing
Florida Atlantic University, Boca Raton, FL
Teena Burchianti is dedicated to continuing research in the treatment and ongoing care of breast cancer patients. She was a co-investigator for a study looking at using virtual reality education in breast cancer. Teena has also worked with the Florida Breast Cancer Foundation grant providing support for lymphedema compression garments for patients at UF Health Proton Therapy Institute. In addition, she participated as a co-investigator for the BELLE breast cancer study researching ways to improve outcomes for patients with advanced breast cancer by limiting damage to healthy lung tissue. The BELLE study outcomes were recently published in ASTRO's International Journal of Radiation Oncology, Biology, Physics and discussed how the use of pulmonary function tests may be used as an early marker of radiation induced lung injury.
Active Research Studies
Prospective Pilot Cohort Study of Tracking Circulating Tumor DNA in Women Receiving Neoadjuvant Chemotherapy for Breast Cancer
Prospective Trial of Regional Nodal Irradiation for Women with Residual Breast Disease after Neoadjuvant Chemotherapy
Nominated as Employee of the Month: January, February, March, April
UF Health Proton Therapy Institute (2022)
Advanced Practice Provider of the Year
UF Health Cancer Center (2021)
ONCC Roberta Scofield Memorial Oncology Certification Award
Oncology Nursing Certification Corporation (2011)
Hollingsworth Nursing Scholarship
Florida Atlantic University (1992-1993)
FAU Presidential Scholarship and Out-of-State Tuition Waver Scholarship
Florida Atlantic University (1989-1993)
Athletic Swimming Scholarship
Florida Atlantic University (1989-1992)
Ivan Williams Athletic/Academic Scholarship
Fenton High School, Fenton, MI (1989)
What does your work at UF Health Proton Therapy Institute mean to you?
"It is my commitment to remain dedicated to research and education while striving to remain authentic and focused on cancer survivorship in order to promote the best outcomes after radiation therapy. It is my hope to address our patients' unique needs by being accessible and devoted to their care. I consider myself lucky to work and serve in an institution imbued with these values."
Find Burchianti's publications through PubMed*
*Please note, the resulting PubMed entries may not reflect a complete or accurate listing for faculty members. Many journals are not indexed by PubMed, and there may be articles by other authors of the same name listed for each search.