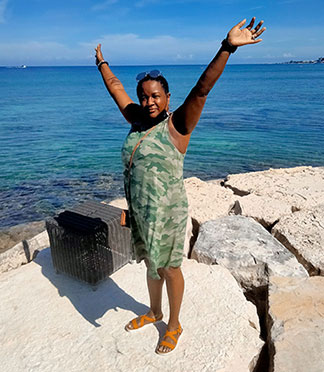 Elaine Carter
A year ago, Elaine Carter was faced with a decision. A regular screening mammogram led to a diagnosis of breast cancer in her left breast. In addition to surgery and chemo, she needed radiation to treat her breast cancer.
Her surgeon recommended that she look into proton therapy at the UF Health Proton Therapy Institute. Elaine was familiar with the facility since she has worked for a number of years as a medical coder in the cardiology department at UF Health Jacksonville. She met with radiation oncologist Julie Bradley, MD, MHCDS, associate professor, Department of Radiation Oncology at the University of Florida, and breast cancer program director at the UF Health Proton Therapy Institute. 
Choosing Proton Therapy
Because the cancer was in her left breast, Elaine decided proton therapy was the best option to keep her heart out of the radiation path. "Dr. Julie Bradley is awesome! She makes you feel comfortable and that you are in control. It's your choice, but she spells the options out to you. I liked the empowerment. I felt like I had control over something," Elaine said.
Elaine had six weeks of proton therapy, ending in September 2021. At first she was nervous because she didn't know what to expect. "I mostly was afraid that it was going to hurt. But I didn't feel anything during treatment," she said. "The first day I laid on the treatment table, all my worries went away. I felt like they were going to take care of me," she explained, crediting her radiation therapists. "They are gentle and tender with you – it is comforting. I felt calm."
While she was on treatment she met many patients who were going through treatment for different types of cancer. She said it was like a family. She knew she wasn't fighting cancer alone.
Elaine said she is doing well since finishing up her radiation, exercising three days a week and feeling blessed. "When you are first diagnosed and hear you have to have radiation, just know that what we worry about as women, like, 'Oh my gosh, is it going to discolor my breasts?' it may, but that is superficial. It goes away. The proton team is awesome. If you have any questions, you can ask them anything in the world and they will answer it for you," she said. 
She is glad that she was able to catch the cancer early and had a great team of experts to help her. Elaine said, "I would like to tell every woman that is of mammogram age to get your mammo! Mammos save lives. I did not have a lump. I did my breast self-exams, and I didn't have anything to tell me that I had a problem. The mammo saved my life!"
---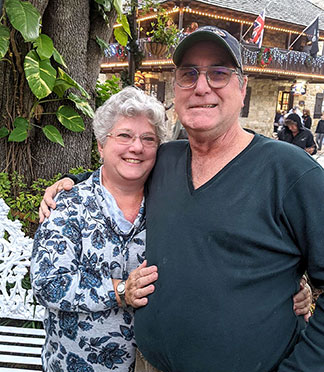 Maureen "Moe" LaTour
When she was diagnosed with high-risk breast cancer in 2017, Maureen "Moe" LaTour had an advantage. She had nearly 40 years of experience as a nurse in the Intensive Care Unit and as a nurse educator at UF Health Shands Hospital and UF Health Shands Children's Hospital in Gainesville, Fla. – training and expertise that helped her make decisions about her own breast cancer treatment. 
That's why when she felt a lump in her breast, Moe knew something wasn't right, even though her screening mammogram six months earlier was normal. She had a new mammogram, and upon further examination her doctor confirmed Moe's suspicion.  
Choosing Proton Therapy
A treatment plan was developed including surgery, chemotherapy, and radiotherapy. Moe was referred to radiation oncologist Nancy Mendenhall, MD, FACR, FASTRO, professor, Department of Radiation Oncology at the University of Florida, and medical director of the UF Health Proton Therapy Institute.
Dr. Mendenhall outlined the radiation therapies available to Moe. They went over the risks and benefits of each option. Then, Dr. Mendenhall highly suggested proton therapy because of Moe's medical history and medical background and the diagnosis of high-risk breast cancer. Moe deliberated and looked up proton therapy research and the National Cancer Institute's data to finalize her decision that proton therapy was probably going to be the best shot she had of stopping her breast cancer.
Exceptional Care
Moe said that she received "tender loving care" from all the staff members she encountered during her two months on treatment. They made her feel comfortable and kept her spirits up with kindness and humor. "I never felt so cared for," she said. "My husband and I have been healthcare providers for over 39 years, and the care we got was exceptional. There is a human touch with the empathy, kindness, and support here that is life altering."
Even in follow up visits years later, Moe said she feels welcome at the Institute. She knows she can count on nurse practitioner Teena Burchianti, MSN, APRN, ANP-BC, OCN® to provide the expert care needed, including managing side effects and fielding questions about her complicated case. 
Moe encourages other women who have been diagnosed with breast cancer to advocate for themselves and explore all options for their care. While she has retired from her nursing career, she remains active in sharing her experience. "I think I have an inside warrior spirit that I didn't know I had," she said. She considers every day a blessing and enjoys spending time with her husband, children and four grandsons.
---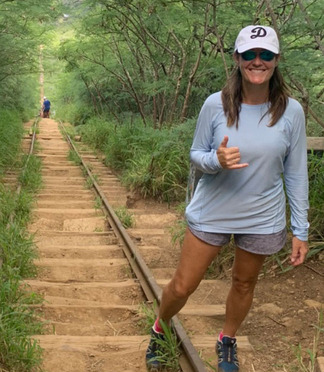 Allison Kijek
An on-the-go military spouse and mom, Allison Kijek is used to keeping her options open. So when she was diagnosed with breast cancer in 2017, she researched and got a second opinion.
Allison used her training as a nurse to research and decide on the best breast cancer treatment option. She looked up the best doctors and read reviews. She met with two different radiation oncology providers, one being the UF Health Proton Therapy Institute, on the recommendation of her breast cancer surgeon. She discussed the options with her husband.
Choosing Proton Therapy
Allison decided that proton therapy was a good fit for her after talking with radiation oncologist Julie Bradley, MD, MHCDS, associate professor, Department of Radiation Oncology at the University of Florida and breast cancer program director at the UF Health Proton Therapy Institute. 
Dr. Bradley reviewed the data from breast cancer proton therapy studies with Allison and her husband. As a young wife and mother, not only was she looking for the best way to stop the breast cancer, Allison was also interested in the possible long-term side effects of treatment and loved the idea that proton therapy would not damage her heart and lungs as much as traditional radiation could. 
Comfort and Expertise
Allison's rapport with Dr. Bradley and with the rest of the treatment team, including her nurse, radiation therapists and nurse practitioner Teena Burchianti, ARNP, made her feel that she was safe and comfortable she said. "I felt like I was always in great hands. I loved every radiation therapist I had. They were always smiling. It is the weirdest thing when you are going through such trauma to walk into a space and feel such comfort," said Allison. "From the person at the front desk to my doctor, everyone made me feel welcome."
Five years after treatment, Allison said she feels healthy and stays current with checkups every six months. She was able to deal with some standard skin problems and manage range-of-motion issues with some physical therapy, which she was told could occur. She is doing the things she wants to do and nothing is keeping her from living her normal life. "I love the outdoors, walking and hiking and being at the beach. My son plays baseball, so I go to lots of baseball games," she said.
Allison encourages others who have been recently diagnosed with breast cancer to advocate for yourself and do your own research when deciding on treatment. Her advice? "I would just say keep all options open. Get the second opinion. Find out what works for you."