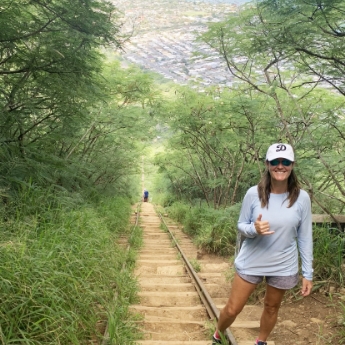 Survivor Spotlight
Allison Kijek – Her Search for the Best Breast Cancer Treatment Led to Proton Therapy
An on-the-go military spouse and mom, Allison Kijek is used to keeping her options open. So when she was diagnosed with breast cancer in 2017, she researched and got a second opinion.
Allison used her training as a nurse to research and decide on the best breast cancer treatment option for her. She looked up the best doctors and read reviews. She met with two different radiation oncology providers, including one at the UF Health Proton Therapy Institute, on the recommendation of her breast cancer surgeon. She discussed the options with her husband.
Choosing Proton Therapy 
Allison decided that proton therapy was a good fit for her after talking with radiation oncologist Julie Bradley, MD, MHCDS, Associate Professor, Department of Radiation Oncology at the University of Florida and Breast Cancer Program Director at the UF Health Proton Therapy Institute. 
Dr. Bradley reviewed the data from breast cancer proton therapy studies with Allison and her husband. As a young wife and mother, not only was she looking for the best way to stop the breast cancer, Allison was also concerned about the possible long-term side effects of treatment and loved the idea that proton therapy may minimize the damage to her heart and lungs. 
Comfort and Expertise
Allison's rapport with Dr. Bradley and the entire treatment team, including her nurse, radiation therapist and nurse practitioner Teena Burchianti made her feel that she was safe and comfortable. "I felt like I was always in great hands. I loved every radiation therapist I had. They were always smiling. It is the weirdest thing when you are going through such trauma to walk into a space and feel such comfort," said Allison. "From the person at the front desk to my doctor, everyone made me feel welcome."
Five years after treatment, Allison said she feels healthy and stays current with checkups every six months. She was able to deal with some standard skin problems and manage range-of-motion issues with some physical therapy, which she was told could occur. She is doing the things she wants to do, and nothing is keeping her from living her normal life. "I love the outdoors, walking and hiking and being at the beach. My son plays baseball, so I go to lots of baseball games," she said.
Allison encourages others who have been recently diagnosed with breast cancer to advocate for yourself and do your own research when deciding on treatment. Her advice? "I would just say keep all options open. Get the second opinion. Find out what works for you."