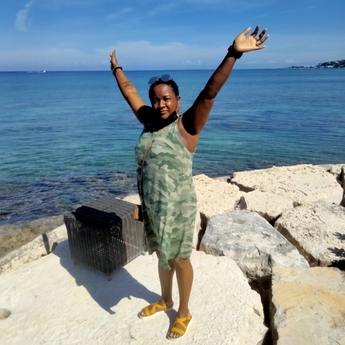 Survivor Spotlight
Elaine Carter – Her Decision to Have Proton Therapy for Cancer in the Left Breast
A year ago, Elaine Carter was faced with a decision. A regular screening mammogram led to a diagnosis of breast cancer in her left breast. In addition to surgery and chemotherapy, radiation therapy was recommended to eradicate the breast cancer.
Her surgeon recommended that she look into proton therapy at the UF Health Proton Therapy Institute. Elaine was familiar with the facility since she has worked for a number of years as a medical coder in the cardiology department at UF Health Jacksonville. She met with radiation oncologist Julie Bradley, MD, MHCDS, Associate Professor, Department of Radiation Oncology at the University of Florida, and Breast Cancer Program Director at the UF Health Proton Therapy Institute. 
Choosing Proton Therapy
Because the cancer was in her left breast, Elaine decided proton therapy was the best option to keep her heart out of the radiation path. "Dr. Julie Bradley is awesome! She makes you feel comfortable and that you are in control. It's your choice, but she spells the options out to you. I liked the empowerment. I felt like I had control over something," Elaine said.
Elaine had six weeks of proton therapy, ending in September 2021. At first, she was nervous because she didn't know what to expect.
"I mostly was afraid that it was going to hurt. But I didn't feel anything during treatment," she said. "The first day I laid on the treatment table, all my worries went away. I felt like they were going to take care of me," she explained, crediting her radiation therapists. "They are gentle and tender with you – it is comforting. I felt calm."
While she was on treatment, she met many patients who were going through treatment for different types of cancer. She said it was like a family. She knew she wasn't fighting cancer alone.
Elaine said she is doing well since finishing up her radiation, exercising three days a week and feeling blessed. "When you are first diagnosed and hear you have to have radiation, just know that what we worry about as women, like, 'Oh my gosh, is it going to discolor my breasts?' It may, but that is superficial. It goes away. The proton team is awesome. If you have any questions, you can ask them anything in the world and they will answer it for you," she said. 
She is glad that she was able to catch the cancer early and had a great team of experts to help her. Elaine said, "I would like to tell every woman that is of mammogram age to get your mammo! Mammos save lives. I did not have a lump. I did my breast self-exams, and I didn't have anything to tell me that I had a problem. The mammo saved my life!"