Breast Cancer
Survivor Spotlight: Debbie Elert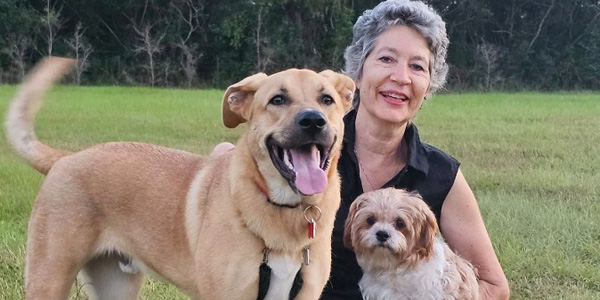 Advocating for the Best Cancer Treatment
When Debbie Elert was diagnosed with breast cancer on the left side, she knew she wanted to maintain good health and take care of her whole body while also getting rid of the cancer. An active woman who runs Lost Dogs Florida, a non-profit that reunites lost dogs with their owners, and working full time as a massage therapist, she knew maintaining her strength and getting back to her work as soon as possible was important.
After being diagnosed in September 2022, Debbie completed chemo and a lumpectomy. When it came to the next steps, she was adamant that proton therapy was the next best course of action. Her research told her that the side effects of proton therapy may be less. This is especially important for patients with left-sided breast cancer. Debbie was so passionate about giving proton therapy a try, she waded through several rounds of insurance denials before being granted an approval on the fourth try. She expressed her gratitude to the Institute for handling this daunting process on her behalf.
Radiation oncologist Julie Bradley, MD, MHCDS, associate professor in the Department of Radiation Oncology, University of Florida College of Medicine, made Debbie feel confident in her decision to choose proton therapy. Debbie said she has been told that since proton therapy is contoured to the depth of the tumor and there's no exit radiation, her heart received almost no radiation and her lung received considerably less than treatment with traditional radiation.
Forming a Sense of Community
Debbie speaks choked with tears when she tells us how appreciative she is to everyone at UF Health Proton Therapy Institute. "You get the feeling that you really matter," she said "This is truly what healthcare should be. I've never had care like the team at Florida Proton provided."
Another important part of her feelings of gratitude is the sense of community with other patients she built while in treatment. She said she was impressed with the number of opportunities the Institute offers for patients to connect and get to know one another. One important activity was the educational luncheons offered regularly for patients. One of the physicians or other invited subject matter expert speaks at the luncheons. Debbie said she enjoyed learning more about cancer treatments like proton therapy as well as some of the other advances UF Health Proton Therapy Institute is making to treat cancer.
She also shared that she appreciated the Institute helping her to find housing in town while she completed her treatments. Debbie said she enjoyed staying at the 3rd and Main apartments, where many other patients stay. It gave her a feeling of safety, getting to know the other patients and their families living there. They formed a community that took care of each other.
Feeling Strong One Year After the Diagnosis
While Debbie finishes the infusions that are part of her cancer treatment plan, she is feeling strong and getting back to her normal activities. She has returned to work as a massage therapist as well as tending to her garden, which she cares for deeply and feels she's neglected while navigating her cancer treatments. One special addition to her life is a new dog in the family. Debbie explained that Curly came to her nonprofit but wasn't able to be rehomed. He seemed to fit right into Debbie's family – and their current dog, Jack, approved, so Debbie and her husband adopted Curly. They are now a two-dog family. Jack and Curly are happy to have Debbie home and to help her with her garden work.