Breast Cancer
Survivor Spotlight: Melissa Breedlove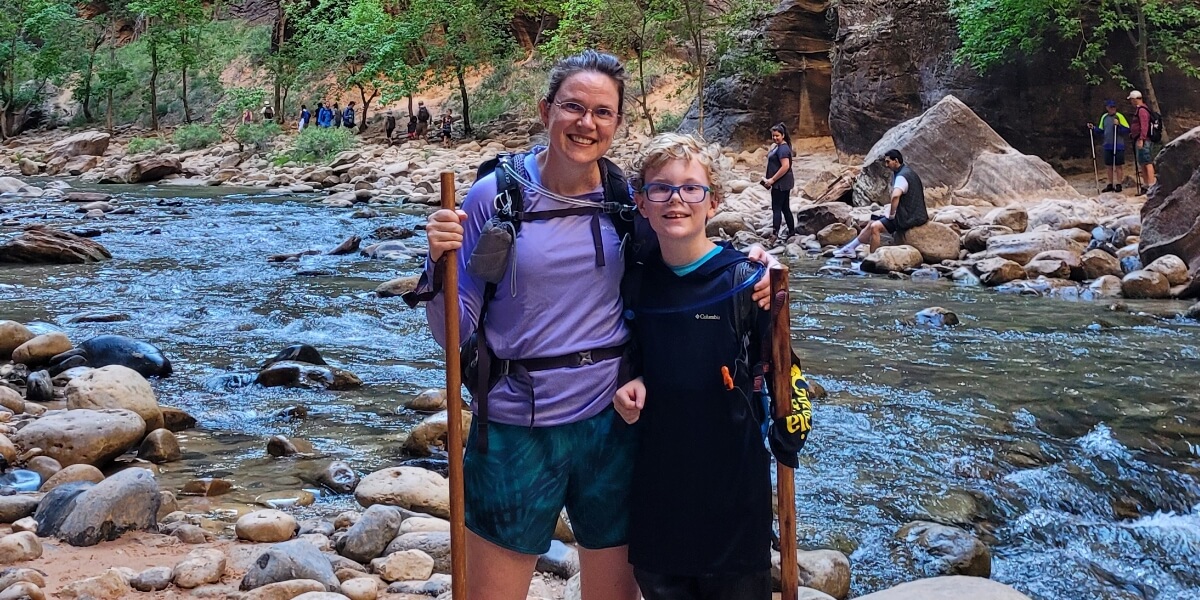 Melissa shares her breast cancer story as she believes so many more breast cancer patients could benefit from proton therapy.
In 2017, Melissa Breedlove, a 36-year-old scientist and mom, was diagnosed with stage two breast cancer. She is thankful that during her initial radiation consultation in Gainesville, the physician was knowledgeable about proton therapy, and she recommended it as an option to explore.
She began her "zaps," as she referred to them, at the UF Health Proton Therapy Institute in Jacksonville on May 23, 2017. With her was her young child Tristan who celebrated his fifth birthday the next day. He was with her every step of the way along with her parents making sure she and Tristan were cared for while they all stayed in Jacksonville that summer.
Sharing Her Cancer Journey
It is important for Melissa to share her breast cancer story as she believes so many more breast cancer patients could benefit from proton therapy. She says proton therapy was the right choice for her as it offered more protection for her heart and lungs over traditional radiation.
Following surgery, Melissa began a six-week course of proton therapy treatment. She underwent two more surgeries in 2017 following radiation and is finishing endocrine therapy in 2024…a reminder that cancer treatment is a marathon and not a sprint.
Melissa recently shared her proton therapy experience with a national audience at the National Association for Proton Therapy (NAPT) conference held in Utah this past May. "It was a great experience for me to hear how proton therapy has come along in the last six years," she said. Sharing her own experience along with others more recently treated was enlightening she says, and she hopes as more patients talk about their treatment, it will shine a brighter light on proton therapy.
Exploring New Challenges
As for her lungs, "they seem just fine," Melissa says with a laugh. She gave them the ultimate test after her treatment was complete, and she felt ready for a new challenge. She embarked on a 24-mile-rim-to-rim hiking trip at the Grand Canyon. She says she was never very active before her diagnosis but beating breast cancer inspired her to try new things.
Melissa celebrated five years of being cancer free and her son's 10th birthday by exploring and hiking Zion National Park, the Grand Canyon and Hoover Dam. She says for some time her son thought his mom just liked pink and "the ribbon", but he now understands more about what his mom has overcome.
Melissa credits the UF Health Proton Therapy Institute team led by Dr. Julie Bradley for excellent care and guidance. She says the Institute helped with insurance approvals, post-treatment side effects like skin discoloration, answering multiple questions, and much more. "The staff really becomes an extended family," she says.
Melissa looks to the future, ready for new adventures and hopeful that proton therapy will reach more people.