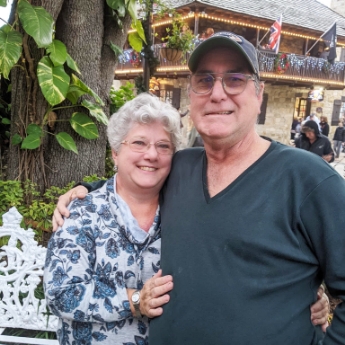 Survivor Spotlight
Maureen "Moe" LaTour – Nurse Chooses Proton Therapy for High-Risk Breast Cancer Treatment
When she was diagnosed with high-risk breast cancer in 2017, Maureen "Moe" LaTour had an advantage. She had nearly 40 years of experience as a nurse in the Intensive Care Unit and as a nurse educator at UF Health Shands Hospital and UF Health Shands Children's Hospital in Gainesville, Fla. – training and expertise that helped her make decisions about her own breast cancer treatment. 
That's why when she felt a lump in her breast, Moe knew something wasn't right, even though her screening mammogram six months earlier was normal. She had a new mammogram, and upon further examination her doctor confirmed Moe's suspicion.  
Choosing Proton Therapy
A treatment plan was developed including surgery, chemotherapy and radiotherapy. Moe was referred to radiation oncologist Nancy Mendenhall, MD, FACR, FASTRO, Professor, Department of Radiation Oncology at the University of Florida, and Medical Director of the UF Health Proton Therapy Institute.
Dr. Mendenhall outlined the radiation therapies available to Moe. They went over the risks and benefits of each option. Then, Dr. Mendenhall highly suggested proton therapy because of Moe's medical history and medical background and the diagnosis of high-risk breast cancer. Moe deliberated and investigated proton therapy research and the National Cancer Institute's data to finalize her decision. She chose proton therapy.
Exceptional Care
Moe said that she received "tender loving care" from all the staff members she encountered during her two months on treatment. They made her feel comfortable and kept her spirits up with kindness and humor. "I never felt so cared for," she said. "My husband and I have been healthcare providers for over 39 years, and the care we got was exceptional. There is a human touch with the empathy, kindness and support here that is life-altering."
Even in follow-up visits years later, Moe said she feels welcome at the Institute. She knows she can count on nurse practitioner Teena Burchianti to provide the expert care needed, including managing side effects and fielding questions about her complicated case. 
Moe encourages other women who have been diagnosed with breast cancer to advocate for themselves and explore all options for their care. While she has retired from her nursing career, she remains active in sharing her experience. "I think I have an inside warrior spirit that I didn't know I had," she said. She considers every day a blessing and enjoys spending time with her husband, children and four grandsons.