Pediatric Patient Celebrates the Conclusion of His Treatment with a Firetruck Ride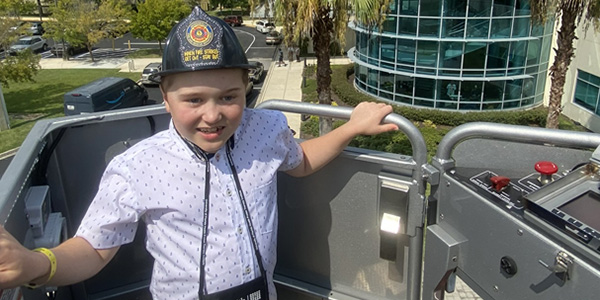 In August, Mike Metzler and Gary Fiske, two adult patients, arranged for a young Canadian patient, AJ Smith, to travel into the sky in a firetruck bucket in celebration of completing his treatment. Mike got to know AJ while they were both receiving treatment and bonded over baseball.
Mike explains, "AJ's first two weeks of treatments corresponded with my last two weeks. He was wearing a Toronto Blue Jays hat, and I'm a big baseball fan, so I went over and started talking to him and his mom. I told him about the Jumbo Shrimp minor league team and a couple days later, he had gone to a game and was wearing one of their hats. I think he was wearing that hat every day he came for treatment after that."
AJ often shared with Mike all the adventures his mom and he were having when not in treatments, talked more about baseball and got to know each other.
Mike said, "I was definitely going to be there when he rang the chimes, but I also wanted to do something for him. I have a friend that works for the UF Athletic Association, and I asked him if he could get me some UF baseball things. He came through big time. I brought AJ a Gators baseball signed by Coach O'Sullivan, a Gators ball cap, a practice jersey, a T-shirt, a sweatshirt and some other items. I saw him showing the ball to everyone in the waiting room, and it made me so happy that I could give him a small amount of joy."
When Gary heard about this special and brave patient, he wanted to help Mike celebrate AJ. As a former police officer, he was able to reach out to some of his contacts and arrange for a firetruck to take AJ up in their bucket truck.
Mike said, "Whenever I got a little down, I thought of him, and it immediately raised my spirits."