Childhood Cancer Awareness Month - Go Gold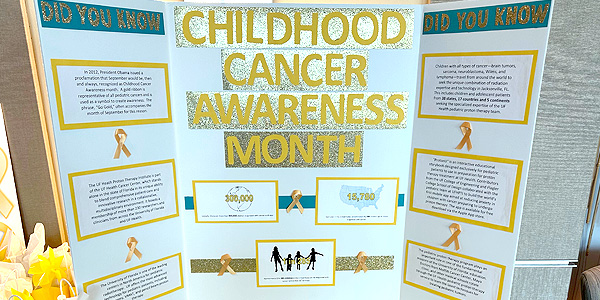 September was Childhood Cancer Awareness Month. It is a month where organizations and individuals all over the world recognize young cancer patients and their families, as well as the individuals who rally behind them and support them during their cancer journey. We celebrated "Go Gold Day" on Sept. 1, and then "Go Gold in September." We placed a table decorated for Childhood Cancer Awareness Month in the lobby for "Go Gold." There were giveaways, coloring sheets and information about childhood cancer, as well as a bulletin board where individuals can write messages of support for our pediatric patients.
In October, we will continue awareness events to support the children and their families with a fall carnival. There will be carnival games, costumes and yummy treats.
The pediatric team also recently started a weekly Pediatric Support Group. It is a weekly activity with fun and games in the KidZone led by Child Life Specialist, Jasmine. We are planning activities for the upcoming holiday celebrations through the end of the year for our pediatric patients, including the pediatric holiday party with Santa Joe.