Walter and Yvonne Wood Resting Room Opens for Patients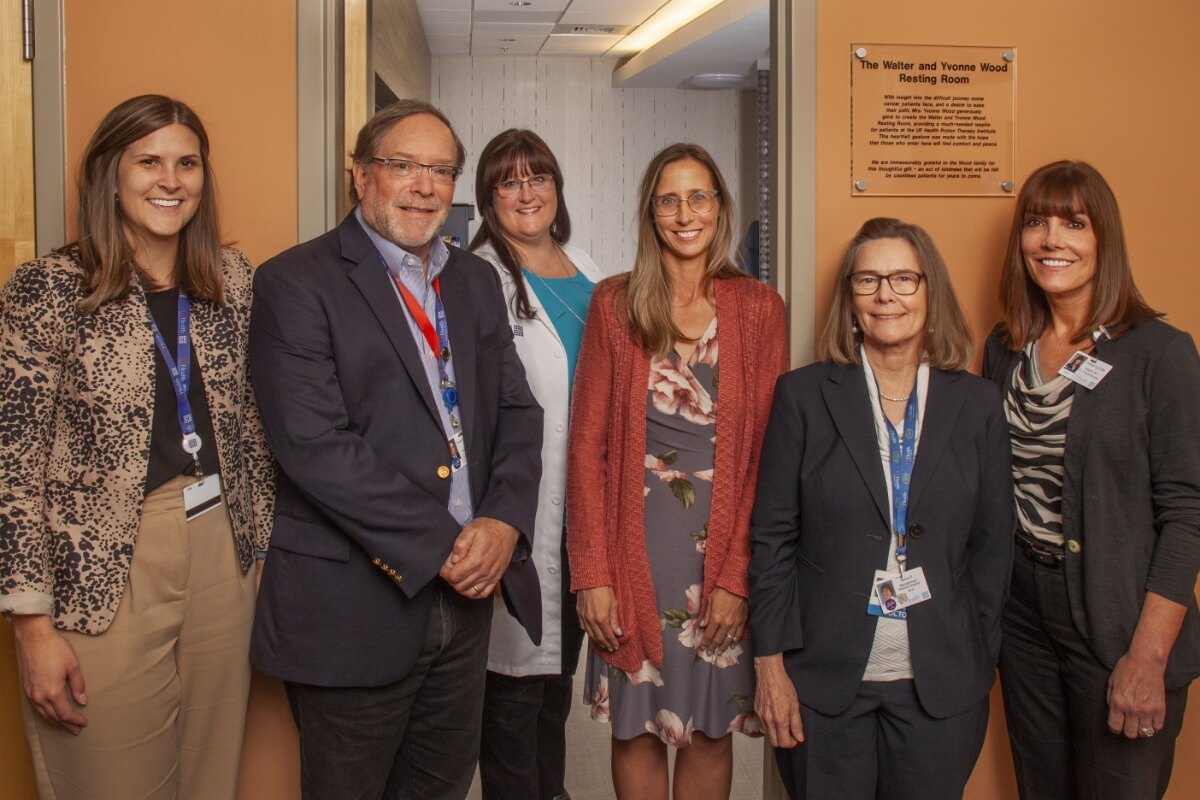 As the parent of an adult who was treated for cancer, Yvonne Wood has witnessed the often challenging therapies patients must face. Depending on the diagnosis, some patients require extended visits with multiple treatments being administered in a single day. With an understanding of how trying treatment can be, Mrs. Wood recently made a unique gift to UF Health Proton Therapy Institute, which has funded the creation of a space for patients to find much-needed comfort and rest.
"I am happy to see the Resting Room become a reality," Mrs. Wood said. "This project has been a rewarding experience for me. My daughter, Kim, received excellent care during her radiation treatment at UFHPTI. While there, I saw firsthand the need to help out and try to make life a little easier for some patients who were undergoing treatments."
The Walter and Yvonne Wood Resting Room is comprised of three patient bays, each providing a semi-private space with soft low lighting to create a calm, serene environment. They are outfitted with a recliner for patients and a visitor's chair. Separated by opaque resin panels, each bay faces a large shared video wall, displaying a series of nature scenes specifically chosen to evoke senses of relaxation and calm for patients.
Heather Oakley, MSW, LCSW, OSW-C, is director of social services at UF Health Proton Therapy Institute. Working with patients and their families at UFHPTI for more than 11 years, Oakley identified the need for a dedicated quiet space for patients to rest. Patients make good use of the Institute's lobby before and after treatment, but some, especially those receiving multiple treatments in a day, need a quiet place to rest and heal.
"As our therapies have evolved, we have patients who sometimes receive radiation treatment twice or even three times a day," Oakley shared. "Most patients come, receive their treatment and return home. But for patients who don't feel well or who are between treatments, we wanted to provide a quiet place for them to rest that wasn't a public space."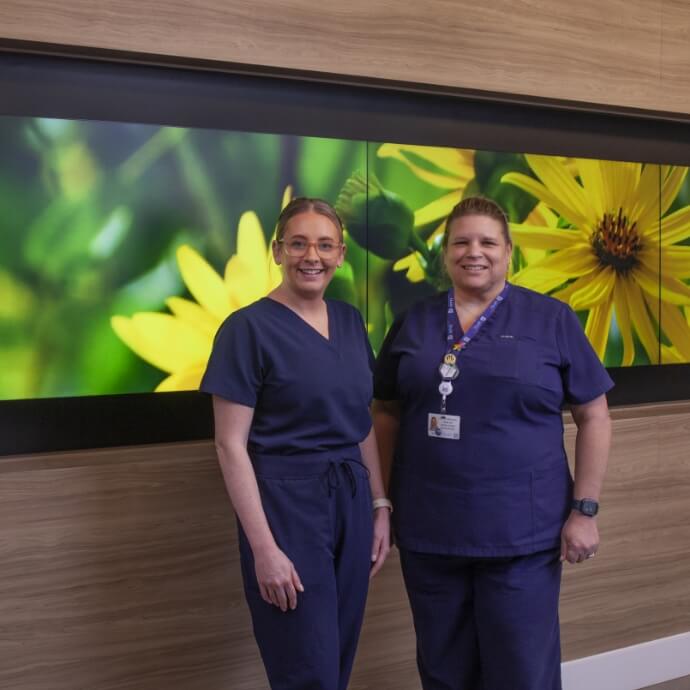 Every aspect of the patient experience has been considered in the design of the Wood Resting Room, from warm blankets to a water cooler and hospitality station, as well as individual charging stations. To most effectively design the space with the patients' needs in mind, the Institute consulted with a local interior designer who has previously created other health care spaces. The Wood Resting Room's color palette involved careful selection to create a serene patient environment. Light blues and blue-greens were used to bring a sense of tranquility and restfulness, representing water, nature and leaves. Those cooler colors were contrasted with warmer wood tones and neutral beiges.
An internal planning group also helped inform the design and function of the space. Comprised of Stuart Klein, executive director; Nancy Mendenhall, MD, FACR, FASTRO, medical director; Abby Senterfitt, BSN, RN, co-director of adult nursing, Carleen Marianek, MSN, RN, co-director of adult nursing; Bradlee Robbert, FACHE, MHA, RT, director of operations; Amy Sapp, MSN, RN, director of pediatric nursing; and Jason Smith, director of facilities, the group worked closely with clinical staff to determine which patients would benefit from the resting room. According to Oakley, these spaces will be used for patients receiving multiple instances of radiation treatment over a prolonged period and for those who are feeling especially ill from their radiation and/or chemotherapy treatments.
"The creation of the Walter and Yvonne Wood Resting Room will enable many of our most compromised patients to rest before or after treatment in a beautiful, quiet space," Mendenhall shared.  "We believe this space will provide an opportunity for reflective thought as well as rest, contributing to the healing process. We are deeply grateful to Mrs. Wood for her most generous and compassionate gift."
Klein shared that a primary goal at UFHPTI is to provide an overall environment that promotes healing.
"We're exceptionally grateful to the Wood family for providing us with the resources to help make this possible.  The Wood Resting Room enables us to accommodate those patients that truly need a dedicated space that fosters and promotes their healing."
For Mrs. Wood, she is a firm believer in giving back to the community.
"This quote from Horace Mann [a 19th century U.S. Representative] sums up my purpose in life," she said. "'I beseech you to treasure up in your hearts these my parting words: Be ashamed to die until you have won some victory for humanity.'"
Make a gift to support the Walter and Yvonne Wood Resting Zone Fund.