Survivor Spotlight: Mollie Mulholland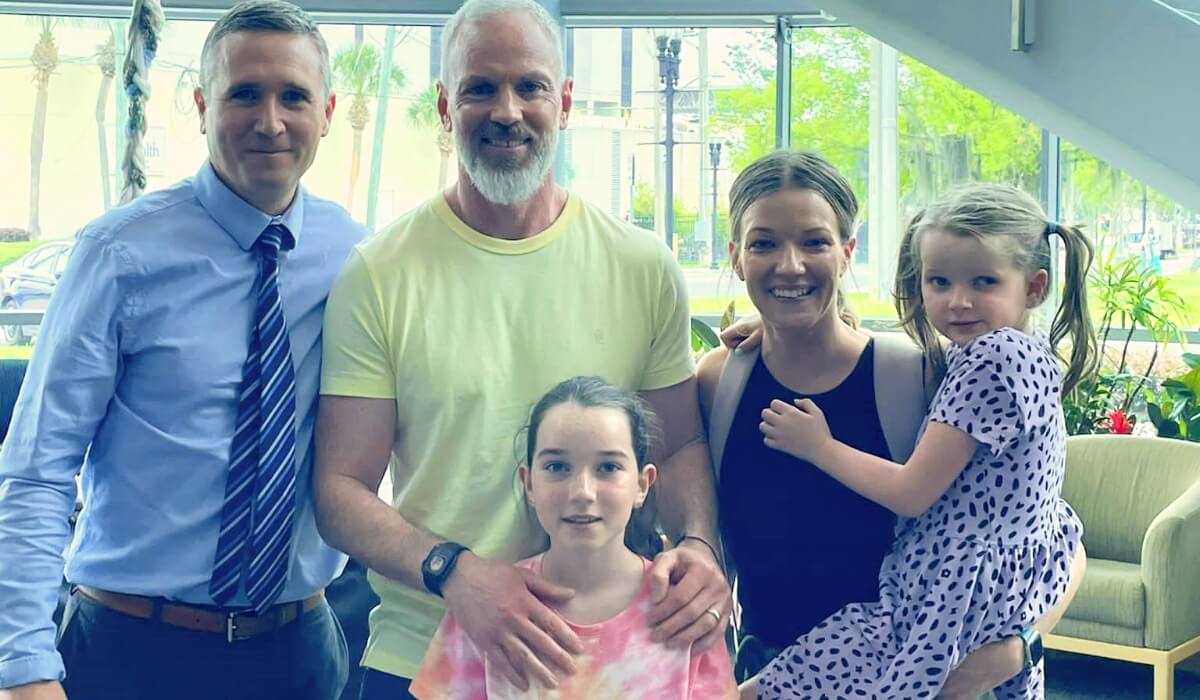 Pediatric rhabdomyosarcoma
Proton Therapy in Jacksonville was "Hope in the Middle of a Storm"
"It's hard to have hope in the middle of a storm like the cancer diagnosis of your child. However, proton therapy was the key to Mollie's survival. We got the best treatment available to her," said parents Fiona and Declan Mulholland during a follow-up visit in Jacksonville more than four years after their daughter's treatment for a rare tumor, rhabdomyosarcoma.
Mollie was two years old when she was diagnosed with the tumor, and the recommended treatment was a combination of chemotherapy and radiation. Because of the location of the tumor near her eye, proton therapy could both deliver effective doses of radiation and possibly reduce the severity of side effects. Today, Mollie is seven years old, and her most recent scans show the residual tumor is stable. The family is cautiously optimistic as Mollie approaches five years post diagnosis this summer.
The Mulhollands described their return visit in April 2023 to the UF Health Proton Therapy Institute and Jacksonville as a healing trip.
While here for Mollie's treatment in 2018, the family temporarily relocated from their home in Northern Ireland to Jacksonville for nine weeks, during which time Mollie had five-and-half weeks of proton therapy and chemotherapy treatments at Wolfson Children's Hospital.
During the especially challenging time in their lives, the family said they felt supported by the medical professionals and staff at the Institute and gradually felt more at home. For example, the radiation therapists who delivered daily treatments greeted Mollie in the treatment room with her favorite song from the Disney movie Frozen to help reduce anxious thoughts and feelings. And while Mollie was in treatment, her sister Grace would do arts and crafts in the lobby with the artist-in-residence. Their father Declan said, "They took an experience that was traumatic for all of us and delivered it in a fun way. The team truly made this a family-friendly experience."
Upon their return visit, Declan and Fiona said they appreciated hearing the "upfront and knowledgeable" assessment of Mollie's progress from Daniel J. Indelicato, MD, tenured professor and associate vice chair of the University of Florida Department of Radiation Oncology and head of the UF pediatric radiotherapy program. As an expert in rare pediatric cancers, Dr. Indelicato, or "Dr. Danny" as his patients call him, is one of the most experienced pediatric radiation oncologists in the treatment of rhabdomyosarcoma. The Mulhollands said they feel confident in Dr. Danny's experience and having his validation of how well Mollie is doing now means the world to them.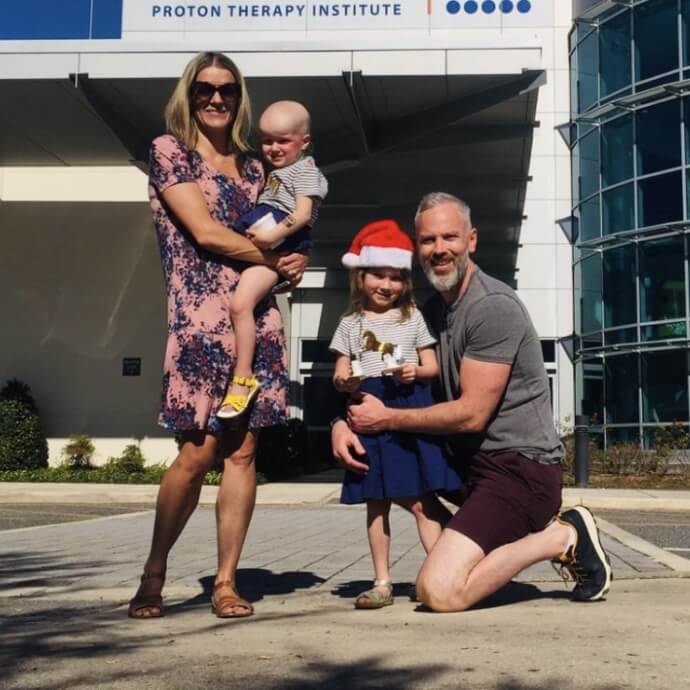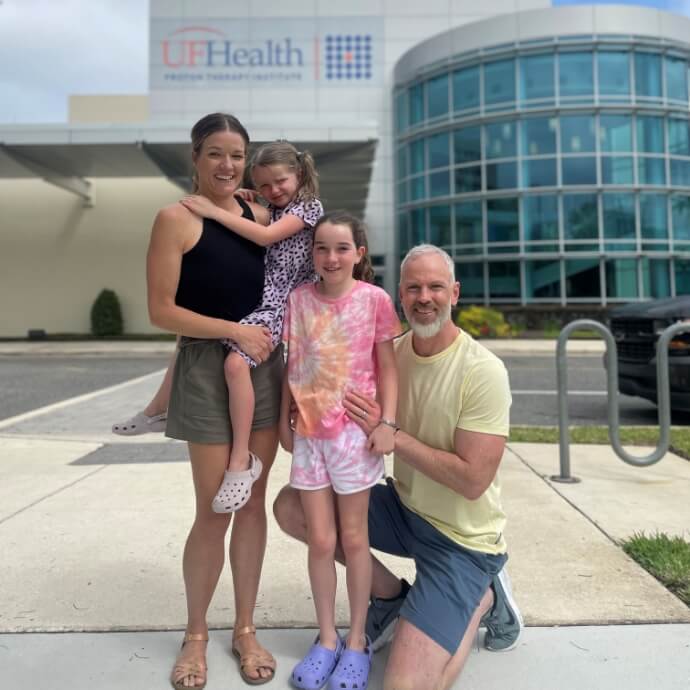 The return trip also helped them recall the good memories they had, like Halloween and Thanksgiving celebrations and feeling at home in Jacksonville because of the relationships they formed with the staff at the Institute and in the community. "Jacksonville felt like home back in 2018. But coming back we realized that it was not just the city, but the people who cared for us that made it feel like home. Coming back felt like we were coming home because of the people," said Mollie's dad Declan.
To Dr. Danny and Mollie's care team, her parents said, "Thank you doesn't even come close to saying what you have done for Mollie. You have left such a positive impact on our lives."
The Mulhollands strive to give hope to other families of children with rhabdomyosarcoma. They joined Alice's Arc, a children's cancer charity in the United Kingdom that raises money for research to find a cure and better treatments for rhabdomyosarcoma. It was founded by the parents of Alice, a young girl who was also treated for the rare tumor at the UF Health Proton Therapy Institute. The bridges in Jacksonville that Alice and her family often saw during their time at the Institute inspired the "Arc." Mollie's mom Fiona said joining the Alice's Arc community and having therapy have helped her to cope through these difficult years and to be there for her family. The group plans to open a chapter in the United States and has filed for 501 (c) 3 nonprofit status of Alice's Arc, US Inc.
Declan took up running as a way to help reduce the anxiety and trauma he was experiencing when Mollie was first diagnosed. He most recently took part in a 10K in Jacksonville while they were in town and ran his first marathon, the Belfast Marathon, at the end of April. He also changed careers, switching to a job with a more predictable schedule and time to be there for the family. He said, "Life will never be the same, but you adapt through the storm. We are grateful for life. Mollie's life. Our family's life."
If you are inspired to help children, like Mollie, you can make a gift to support The University of Florida Health Proton Therapy for the Children Fund. Gifts to the Children's fund help provide services that make our pediatric program special, including family and child life specialists.