Dan Stokes is a Proton Ambassador and Retired Land Speed Racer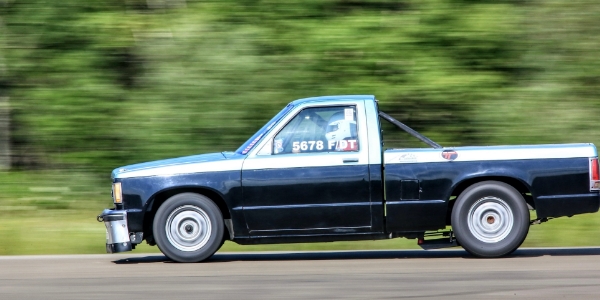 Dan Stokes received prostate cancer treatment at the UF Health Proton Therapy Institute six years ago. He continued his hobby of Land Speed Racing (LSR) following treatment. There was no way a cancer diagnosis and treatment were going to slow him down and stop him from racing his truck, which he lovingly refers to as "Mutt."
Mutt is a 1985 Chevy S10 pickup with an '85 Mercedes Benz 5-cylinder diesel engine. He refers to the racing truck as a mutt since it's made up of so many different "breeds" or parts. "I built Mutt over several years starting with a truck that had been a race truck before but with a very different engine and transmission," said Dan.
Dan explained his hobby, "In LSR, we are only concerned (about) top speed and pay no attention to how long it takes to get down the track." He ran mostly 1-mile courses and Mutt's best speed is more than 138 MPH. Dan completed this achievement at the track at Loring Air Force Base in Maine, where he raced in his last meet. He said he has retained several track records in his class.
Dan recently decided to retire from LSR but says only age, and not his cancer journey, influenced that decision. He will continue to pursue other hobbies and interests in retirement, including continuing to be a Florida Proton Ambassador.