Welcome Kasey Heilman, Director of Development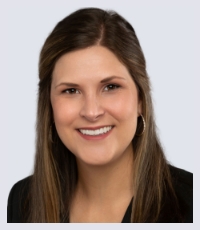 The UF Health Proton Therapy Institute has appointed Kasey Heilman as Director of Development. In her new role, Kasey will lead the development and implementation of fundraising programs to support and advance the priorities of the Institute. She works closely with donors, volunteers, patients, faculty and staff to advance philanthropic initiatives. 
A University of Florida alumna, Kasey has a background in hospitality and events, and most recently was Associate Director of Development and Events at UF Health Jacksonville and the UF College of Medicine – Jacksonville. There, she managed the annual giving program and two signature fundraising events, A Night of Heroes gala benefiting UF Health TraumaOne and Tony's Turkey Trot for Brain Injury Awareness 5K, among other responsibilities. 
While Kasey is new on staff, she is a long-time friend and supporter of the Institute. She lent her expertise to us from 2016 – 2018 as a committee member of our signature fundraising event, the Play Golf. Fight Cancer.® Classic. "I'm excited to be back and continue to work with Dr. Nancy Mendenhall and also to get to know our patients. I look forward to meeting our patients and donors and to making an impact for the Institute," said Kasey. Since moving to Jacksonville in 2014, Kasey has made the Springfield neighborhood her home, loves the downtown area with its many craft breweries and restaurants, and can often be found walking with her husband and dogs in Klutho Park and along the St. Johns Riverwalk.
Kasey will be picking up the reins from Kathy Murray, who retired as our Director of Development. Kathy had been in her role with us for the past three years, and prior to that was indirectly involved through her position as a development officer at the UF College of Medicine in Gainesville and UF Health. 
Kathy's years of service have made a positive difference as she guided donors, families, and patients through the process of making a charitable contribution, gift or grant. These funds helped to strengthen vital programs and services such as clinical research, patient experience, pediatric programs, renovations, equipment upgrades and more. "What was the most gratifying part of working at the Institute: meeting patients that in spite of their diagnosis were thrilled with the care they received," Kathy said. "Even when the prognosis is not as clear-cut, they appreciate the care and attention they received when they were here. It makes you proud of your team and proud of being here."
She is looking forward to no alarm clocks, spending lots of time with her 5 grandsons, and traveling with a bike trip in Tuscany first on the list.
There are several ongoing and upcoming opportunities to make a gift in support of the Institute's most pressing needs. Among them are upgrades to equipment and renovation of our simulation suite, ongoing clinical research, and patient experience enhancements. To learn more about these and other giving opportunities, visit our  UF Health Giving page, or reach out to Kasey Heilman at 904.588.1519 or at kheilman@floridaproton.org.