When prostate cancer returns after radical prostatectomy, proton therapy is an excellent treatment option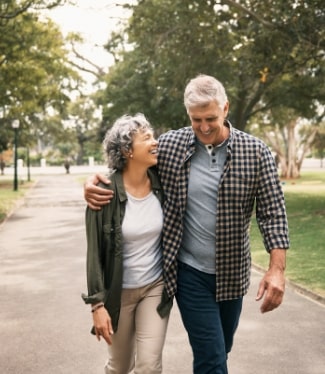 Surgery is a common treatment for localized prostate cancer that has not spread to other areas of the body, or metastasized. The surgical procedure known as radical prostatectomy removes the entire prostate gland and often some of the surrounding structures like seminal vesicles and lymph nodes, the goal being to remove all prostate cancer. There are cases, however, when undetected prostate cancer cells have moved into nearby tissues. These remaining prostate cancer cells multiply and are later discovered when PSA, or prostate-specific antigen, levels in the blood are elevated. This is what is known as a biochemical recurrence or biochemical relapse. The risk of recurrence can range from 40% to 70% in patients whose prostate cancer is found in the seminal vesicles or other tissues on the edges of the surgical site.
New evidence from the UF Health Proton Therapy Institute suggests that proton therapy can be highly effective in treating recurrent prostate cancer following prostatectomy. 
The article, Postoperative or Salvage Proton Radiotherapy for Prostate Cancer After Radical Prostatectomy, published last spring in the International Journal of Particle Therapy, details the outcomes of the first 102 men who were enrolled on an outcome tracking protocol between 2006 and 2017 at the UF Health Proton Therapy Institute and treated with proton therapy after prostatectomy.
Notably, the five-year biochemical relapse-free and distant metastases-free survival rates were, respectively, 57% and 97% overall, and compares favorably with other conventional radiation therapies. 
Moreover, patient-reported quality of life was excellent following proton therapy. No patients experienced severe complications and the rates of acute and late side effects were low. The rates of acute side effects in the urinary tract and in the bowels were 1% and 5%, respectively. Acute side effects, such as urinary frequency (1%), urinary urgency (1%), diarrhea (3%), abdominal cramping (1%), occurred during treatment and within six months after treatment. The rates of late side effects in the urinary tract and in the bowels were 7% and 2%, respectively. Late side effects, such as incontinence (2%) and rectal bleeding (2%), occurred more than six months after treatment.
Overall, the study suggests that proton therapy has a promising role in improving the long-term outcomes of prostate cancer patients who have a recurrence after prostatectomy, either by reducing side effects or improving disease control.