Survivor Spotlight: Dacia Starratt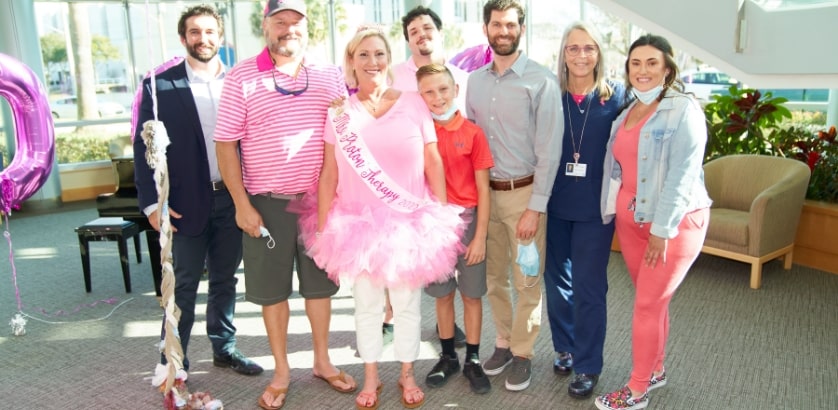 The moment she opened her UF Health patient portal in September 2021, Dacia Starratt said she knew it was cancer. The word carcinoma seemed to jump off the screen in the biopsy results report. She kept her composure as she sat waiting for her 10-year-old son Luke at the Oceanway Sports Association on Jacksonville's Northside while he finished practice. The tumor in her breast was virtually undetectable to the touch, and Dacia had no symptoms. The suspicious growth was discovered during a routine mammogram and confirmed as breast cancer with a biopsy.
Dacia's team of UF Health physicians – primary care, oncologist, surgeon, and radiation oncologist – coordinated her care and developed an optimal treatment plan to include a lumpectomy followed by 32 daily treatments of proton therapy.
When she rang Aud's Chime in The Players Championship Lobby on February 23, 2022, not only did Dacia mark the end of her 6 weeks and 2 days of proton treatments, she also marked a major milestone of the UF Health Proton Therapy Institute as the 10,000th patient to complete treatment. She wore a pink tutu and sash, custom-made by her friend, and a tiara to celebrate the occasion. Surrounded by her son Luke, 26-year-old daughter Payten, and husband Scott, Dacia sent a joyful sound through the building as dozens of friends and UF Health Proton Therapy Institute staff applauded and cheered. Describing her proton treatments, Dacia said, "You can't see it, smell it, feel it or touch it." She was surprised to learn that customized immobilization devices, such as a head mask fastened to the table, would be used to ensure her position during treatment was exactly the same each day. While she was on treatment, Dacia scaled back her busy schedule as a hairstylist as her stamina waned. She managed the minor skin irritation she described as a "tad bit more than a sunburn."
Dacia offered words of thanks to her treatment team saying, "This has been an outstanding experience. From the very beginning, this facility has changed my life." And she offered words of encouragement to others who are on treatment or will be in the future, "You can do it. There's always a bright side to a dark side. You can do it. Just keep a positive attitude and you'll get there."
Dacia is looking forward to life after breast cancer, keeping her active schedule as a team mom and hairstylist. And she said she will remind the women she knows and others in the community to take care of their bodies by scheduling and keeping their appointments for breast cancer screening mammograms.