The UF Health Proton Therapy Institute Recognizes Its 15th Anniversary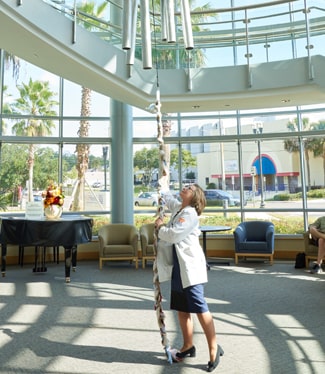 The UF Health Proton Therapy Institute recognized its 15th anniversary in an intimate ceremony on Oct. 13 in the lobby, marking 15 years since the official dedication and ribbon-cutting ceremony of the medical facility. Stuart Klein, MHA, Executive Director, and Nancy Mendenhall, MD, FACR, FASTRO, Medical Director, welcomed a small audience of staff, media and patients, while others around the world joined the commemoration via a Facebook live stream.
Dr. Mendenhall shared key milestones from the past and a message of hope for how proton therapy treatment will continue to advance cancer treatment in the future. City and University leaders, innovators in health, partners and supporters shared remarks through a special 15 years commemoration video. Following her remarks, Dr. Mendenhall rang Aud's Chime 15 times to signify each year the UF Health Proton Therapy Institute has welcomed patients, their families and caregivers.  
Through the end of the year, patients, supporters, caregivers and family can write a note of thanks or congratulations on the anniversary to the UF Health Proton Therapy Institute at www.floridaproton.org/FloridaProton15. We encourage all of you to share your remarks on this page, and we thank you all for your support over the last 15 years and into the future.