One of the Institute's First Patients Celebrates 15 Years Cancer Free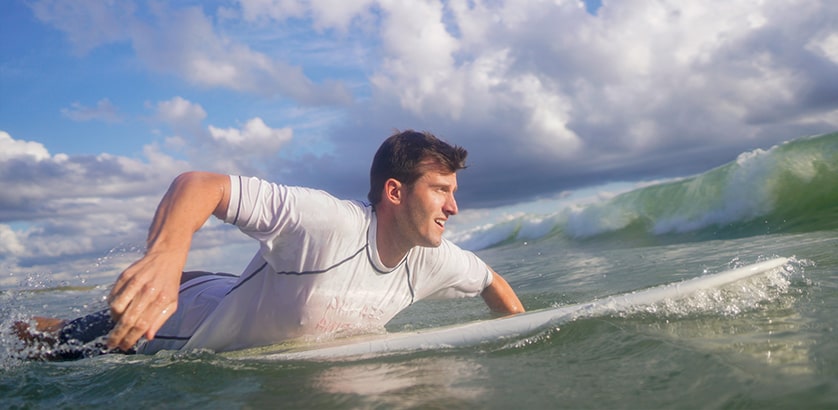 David Marz and UF Health Proton Therapy Institute have something in common. Fifteen years ago, the Institute opened its doors to provide lifesaving cancer care to those in need, including one of its first patients.  This year, both the Institute and David are celebrating milestone anniversaries. Thanks to the care David received, he has been cancer free for the same 15 years that UF Health Proton Therapy Institute has been helping cancer patients thrive. 
In 2006, David was among the first patients to receive lifesaving proton therapy treatment for sarcoma at UF Health Proton Therapy Institute. He and his family traveled daily from Palm Coast, Fla., to Jacksonville to receive this precision cancer treatment. 
Imagine waking up one morning and finding a lump on your lower rib. You don't remember seeing it before, and you can't think of any time when you bumped your rib on something. At the tender age of 16, you continue with your school and sports. The lump rapidly increases in size and cannot be ignored any longer. You didn't expect the physician to say cancer, and just hearing the word puts unpleasant thoughts in your head. You could easily sense your worry and fear from your parents, despite their herculean efforts to remain positive and encouraging. The next step on the cancer journey was to seek a novel treatment in Jacksonville. 
"The doctor explained that we were very lucky that we had state-of-the-art cancer care so close to home," David said.
David credits the kind staff and the technologically advanced treatment with saving his life and providing him the lifestyle he enjoys today. Other than a slight scar, he is unscathed by the cancer. He remains comforted to this day by the positivity and technical expertise of the staff at the Institute. 
"My family and I will always be grateful for the kind, compassionate care the staff at UF Health Proton Therapy Institute provided on a daily basis," David said.
Now a pharmaceutical sales representative, he went on to graduate from the University of Florida with a degree in journalism.  
His cancer is behind him, and his bright future is boldly in front. "Every day matters," David says. "I am grateful to have time with family and friends and for the foresight Jacksonville and UF had to bring proton therapy into the region."