David Newby – A life well lived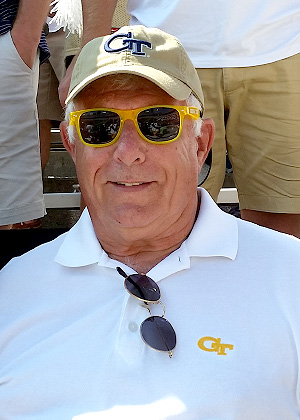 For those who have spent time at the UF Health Proton Therapy Institute over the past six years, whether it be for treatment, follow-up visits, Wednesday luncheons, special events or fundraisers, it is very likely they had the pleasure of meeting David Newby and his wife, Judy. A former patient and prostate cancer survivor, David was a regular volunteer spending time every week greeting people and helping with various activities. His pleasant personality and sense of humor was contagious to everyone he met. It is with saddened hearts that we share David Newby passed away early in February at age 74.
David was an exceptional man and had an uncanny ability to find happiness in his daily activities. A lifelong Boy Scout, David enjoyed working with youth. His career was spent in the classroom as a junior high math teacher and a track, basketball and football coach.
Judy Newby, David's wife of 54 years, remembers him as an outgoing and patient man. He was someone who could do and learn anything he set his mind to and was always willing to lend a helping hand.
In his later years, David's diagnosis of prostate cancer led the couple back to the Jacksonville area. After researching their options and discussing with a local Panama City orthopedic doctor, who was also a former patient of UF Health Proton Therapy Institute, they decided proton therapy was the best course of action because of the precise nature of treatment and low risk of side effects.
David completed his proton therapy in early 2013. Later that year, he and Judy moved back to Jacksonville, Fla., permanently. David made the decision to dedicate himself to being a part of the nurturing health care environment at UF Health Proton Therapy Institute.
"We were so impressed with the friendliness and the atmosphere during his treatments. It was unlike anything we had experienced at a health care facility and really made an impact on us. The Institute made a difficult time much better and easier than it could have been and he wanted to be a part of that for other people," said Judy. "Volunteering was so fulfilling and always the highlight of our week. It was a way we could give back and thank them for all they've done for us. We also got a whole lot in return from the people we met along the way."
We are truly grateful for David and Judy's dedication to the UF Health Proton Therapy Institute. They have impacted hundreds of lives over the years with compassion, encouragement and even a joke or two. David will truly be missed, and we hope to keep his legacy going strong by continuing to provide the level of hospitality and kindness that he gave to all.