Dr. Rutenberg Leads CME Course in May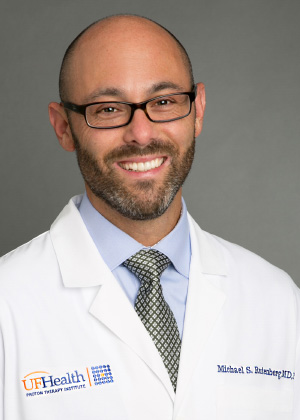 As a leader in proton therapy and the first proton therapy facility in the Southeast U.S., The UF Health Proton Therapy Institute seeks to share its expertise and knowledge garnered through cutting-edge research with the medical community.
On May 12, Dr. Michael Rutenberg delivered a free continuing education session titled, Proton Radiotherapy for Central Nervous System Tumors. Dr. Rutenberg has led the way in creating new standards of care in radiation oncology and shared his experience and knowledge with participants. CME participants also learned about the ways proton therapy is making a difference today in patient outcomes.
Dr. Rutenberg specializes in the care of patients with malignancies of the gastrointestinal and central nervous systems and sarcomas. He leads the reirradiation program at the UF Health Proton Therapy Institute, utilizing proton therapy for patients previously treated with radiotherapy. His research interests include esophageal and liver cancers, sarcoma, brain and spine malignancies.
Keep an eye out to sign up for the next free continuing education event on August 17th when Dr. Nichols discusses the power of proton therapy for lung cancer.