Connecting with Telemedicine for Cancer Care
Doctors across the United States are rapidly adopting telemedicine as a way to effectively treat patients while mitigating the spread of the coronavirus. Nearly half of physicians surveyed say they are using telemedicine as a result of COVID-19, an increase from 18 percent who reported using telemedicine in 2018.1
The UF Health Proton Therapy Institute has increased its telemedicine capabilities by adding virtual visits with physicians and nurse case managers. When in-person consults with new or existing patients do not require a physical examination, appointments are being conducted by videoconference or telephone. The medical team has the flexibility to use the system that works best for patients, whether it's a Facetime chat on a smartphone or tablet or a Zoom or Duo video call on a computer.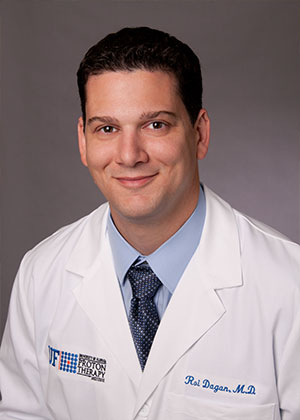 Roi Dagan, MD, MS, radiation oncologist at the UF Health Proton Therapy Institute and associate professor of radiation oncology at the University of Florida, said the telemedicine experience has been positive for both patients and physicians. He emphasized that with cancer, patients should not put off evaluation out of concerns about the coronavirus. "At this stage, cancer is an important indication and given the limitations on in-person appointments, everyone is eligible for a virtual visit," he said.
When it comes to radiation oncology, a patient has been diagnosed and may already have had surgery or chemotherapy, so a large part of the initial evaluation is done by reviewing the patient's medical records, lab test results and staging studies. A thorough evaluation typically includes a physical exam, and Dr. Dagan cautions that there are some limitations to a virtual visit. "I miss the connection with the patient and being able to lay hands on the patient," he said. "There are times during a physical exam when you can directly visualize the cancer. That can make a difference in the treatment plans." Once a new patient is eligible for treatment following a virtual visit, an in-person appointment is scheduled for scans and other physical exams to finalize the treatment plan.
Telemedicine2 has been part of the patient experience since opening in 2006, with telephone consultations, the patient portal VTOC – the secure electronic medical file for patients to access lab results, imaging scans and email messages with the clinical team – and some clinical trial follow-ups via telephone. Beyond safety considerations with the coronavirus, the virtual visit provides a new level of convenience for patients who are from out-of-town.
Telemedicine consults can be scheduled through the patient intake department by calling 904-588-1800. Once an appointment is scheduled an administrative assistant will contact the patient to help set up the software, if needed, test the device, and provide further instructions.
---