Santa Joe Delivers Donation for Children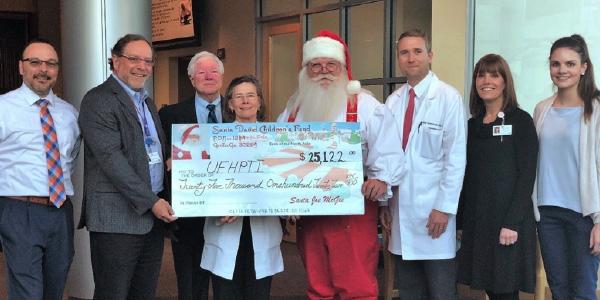 Santa made an un-seasonal stop at the UF Health Proton Therapy Institute this month to spread more Christmas cheer to last throughout the year. Inspired by the children undergoing cancer treatment and his late brother, the "original" Santa in the family, proton alum Joe McGee works throughout the Holiday season as a professional Santa in the Atlanta area. Joe generously puts aside the proceeds he earns as Santa Joe and has returned to the Institute every January since 2014 to deliver a donation for the Children's Fund.
This year, Joe mentioned that people have caught on to his mission and have donated above and beyond to benefit what he has named, "The Santa David Children's Fund," in honor of his brother. The funds he and his wife, Dawn, have shared over the last five years have directly impacted hundreds of children and their families by supporting various programs, child life staff and activities that aim to make treatment easier for even the youngest of children and allow them to enjoy being kids.
Santa Joe also makes an appearance every December at the Institute to hear the children's Christmas wishes and deliver presents. 
"If I can bring joy to one precious little one, then it's all worth it," said Joe.
Current patients created an original painting to gift Santa Joe for his generosity, time and talent. You can book a Santa Joe appearance in the Atlanta area by contacting him at www.facebook.com/santajoemcgee or email at santajoemcgee@gmail.com.