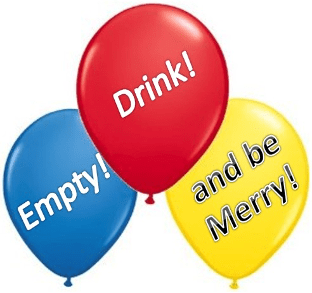 An annual grassroots gathering of proton alumni (a.k.a. patients) had its virtual debut this year due to the coronavirus pandemic. Organized and hosted by Ron Nelson, 2011 alum and author of the book Protons versus Prostate Cancer: Exposed and blog afterproton.com, with his wife Lucy and dog Baxter, the Zoom format meant the party could go on, physically distanced.
The tradition started in 2013 when 10 proton alumni couples who lived nearby were invited to a party at Ron and Lucy's home in South Carolina. It was a chance to reconnect, celebrate and renew the camaraderie they experienced while on treatment at the UF Health Proton Therapy Institute. Since then, the party has grown each year to more than 30 couples from four states and includes people who were treated with protons at other centers, survivors of prostate cancer and other cancers, and guests who are considering cancer treatment with proton therapy.
The eighth annual Empty, Drink & Be Merry celebration was a virtual meetup on Oct. 24 with 40 logins to the party. Ron said in a follow-up email that nearly 40% of participants were "first-time party people" and included people from five states: South Carolina, Florida, Georgia, North Carolina and Virginia. "I really enjoyed seeing everyone and meeting some new members of our proton family. Hopefully we can all share hugs and handshakes in person next fall," he said.