Patient Art Gallery Named in Honor of Karen L Cranford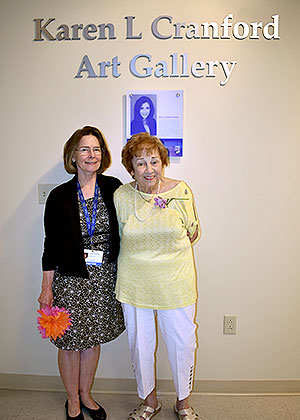 "Associating our art gallery with Karen L Cranford's* name is an absolutely perfect connection," said Bradlee Robbert, Director of Operations at the UF Health Proton Therapy Institute. "By all reports, she was quite a spitfire who loved color and things that sparkled. This gallery has both."
It has been over five years since Karen and her mother travelled from North Carolina to seek treatment for Karen at the Institute. It's a trip that was made all the more stressful because Karen's father had recently succumbed to an unexpected cardiac event.
But, as would be expected, Karen and her mother found peacefulness and an exceptionally caring staff at the Institute. Some of that came through the art gallery and artists-in-residence who worked with patients, transforming nervous moments into pleasant exchanges and a sense of serenity. For both mother and daughter, it meant comfort in times that usually would have been filled with anxiety.
Seeing how important it was to Karen, her mother, Mrs. Cranford, made a contribution so that other adults — as well as children — could benefit from art therapy through the art gallery and the Child Life program through the Children's Fund.
In addition, Mrs. Cranford's gift will support the Karen L Cranford Endowment for Head and Neck Cancer Research that provides support in perpetuity for research at the Institute. "We are grateful for Mrs. Cranford's generous gift in the loving memory of her daughter Karen, a remarkable woman," said Nancy P. Mendenhall, MD, medical director of the UF Health Proton Therapy Institute.
For information about the Karen L Cranford Art Gallery or the Endowment, please contact Kathy Murray at kmurray@floridaproton.org or 904-588-1519.
*Please note: Karen L Cranford did not put a period (.) after the initial L in her name.