Boy from Norway Returns for Victory Lap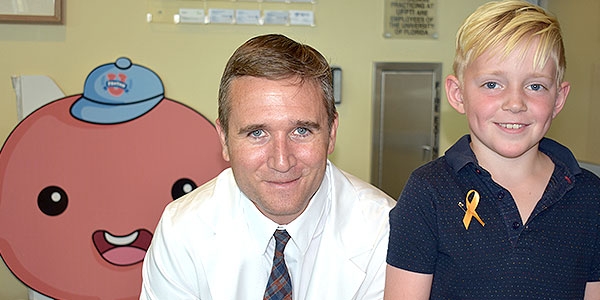 Theodor Lonrusten Midttun of Norway was just 3 years old when he was diagnosed with a brain tumor. Five years later, he received the "all clear," and with his parents and sisters returned to the UF Health Proton Therapy Institute in Jacksonville to celebrate.
His father Teddy said, "we promised each other 5 years ago, if everything went good, to go back to Florida and do all the good things we experienced, without the cancer clouds and worries hanging over us."
Happily, they received good news in August and made the journey back in September. Theodor's parents said Jacksonville made a huge impact on the family during the time they were here for proton therapy. His father Teddy credits the "American spirit, humanity and professional attitude" that gave them hope and strength to get through the hard times. "People care in a way that was not too touchy, but was encouraging. It felt like everyone wanted the best for Theodor," he said.
Today, 8-year-old Theodor loves gymnastics, and when he's in Florida, loves the ocean – especially when playing in the waves with his sisters Bertine, 10, and Mathilda, 5. His parents, Heidi and Teddy, say Theodor enjoys the simple things in life and has a kind heart, ready to lend a helping hand to his classmates and anyone in need.