Nurses Who Specialize in Proton Therapy and So Much More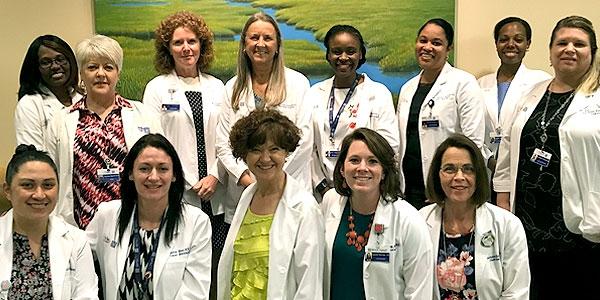 By Theresa Edwards Makrush
The depth of experience and specialization at the UF Health Proton Therapy Institute in every department is a distinction that sets us apart from other proton therapy centers and radiation oncology practices in the region. In recognition of National Nurses Week (May 6-12), we highlight the expertise of our adult nursing team, which is led by Gail Sarto, RN, BSN, director of adult nursing.
According to Gail, all of our nurses are both clinical – meaning they provide the day-to-day care of patients receiving treatment – and do research – meaning they conduct follow-up with patients on clinical trials. Each nurse works as a team member with the physician and has a specialty in the anatomical site that is being treated. There are multiple bilingual nurses, and we have five languages represented on the team besides English.
With over 400 years of combined experience, the adult nursing team is comprised of 20 full-time nurses and medical assistants, five part-time nurses and medical assistants and one administrative assistant. Their ranks include five oncology certified nurses, two nurses who have master's degrees in nursing and one nurse who is working toward a doctoral degree in nursing research.
Our nurses apply their specialized knowledge and skill with compassion. Patient care is tailored to the individual, and the nurse case manager helps patients manage symptoms or treatment-related concerns during and after treatment.
Excellent nurses have a unique capacity to care and to take action to help others. Both on the job and on their own time, our nurses exemplify compassion, professionalism and leadership.
Adult Nursing Team Interesting Facts
Our nurses have a wide range of experiences and interests. The following list illustrates some of their exceptional accomplishments.
A member of the team:
Has been a combat airborne medic and received the Meritorious Service Medal
Is a board member on the local American Cancer Society
Was a supervisor of a phlebotomy lab
Worked in Africa in the Peace Corp
Was the assistant nurse manager of the Shands ER
Was a manager of a turtle farm
Is a member of the National Disaster Response Team
Was a Wildland Firefighter
Was an owner of a long-term assisted living center
Was a member of the United Nations refugee Relief program
Was a labor and delivery nurse for over 10 years
Has yoga certification working with patients with a cancer diagnosis
Many team members:
Were medical assistants or certified nursing assistants before they became nurses
Have Intensive Care experience and one had a specialty in Neurology