Jacksonville Feels Like Home to Family from Australia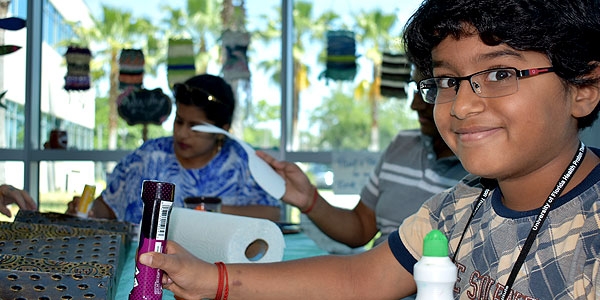 By Theresa Edwards Makrush
When Kalpana Nagraj and Prasanna Venkatesh learned that tumor remnants in their 10-year-old son Arjun's brain showed signs of growing after 16 months of remission following surgery they were surprised. Arjun was not experiencing any symptoms said his father Prasanna. The change, however, was visible on the imaging scan done as part of regular monitoring of his condition. His doctors in Sydney, Australia, recommended radiation therapy.
Kalpana, Arjun's mother, said at the time of his initial diagnosis in August 2017, he had recently passed a rigorous academic exam and was placed in one of the top schools for gifted and talented students. Through their discussions with the radiation oncologist in Sydney and their independent research, they were aware of the potential treatment-related risks to cognitive function. "We didn't want the effects of radiation to affect his future prospects given he is a very bright child," she said 
Arjun's parents with strong support from their local radiation oncologist, endocrinologist and general practitioner began researching options, including a Facebook page for parents whose children have been diagnosed and treated for craniopharyngioma – a tumor so rare it is estimated to affect two people in a million. There they got in touch with a family from Australia who had a child treated with proton therapy at the UF Health Proton Therapy Institute. Encouraged by what they learned, they reached out to the experts at the Institute as they wanted Arjun to reach his maximum future potential.
They also looked into other proton therapy centers around the world, there are none in Australia, and were therefore confident in choosing the UF Health Proton Therapy Institute for Arjun's treatment. "When you look at the medical research about craniopharyngioma, Dr. Danny is one of the world's best. They are the leader in the field, and UF Proton has had the most success in treating children with craniopharyngioma," said Prasanna.
They were connected with Amy Sapp, RN, BSN, director of pediatric nursing, and Daniel J. Indelicato, MD, director of the University of Florida pediatric radiotherapy program and associate professor of radiation oncology. "We had interaction with Amy and Dr. Danny before we got here. They sent the information to our doctor to quickly make a decision, and enabled us to process the Medical Treatment Overseas Program, or MTOP, paperwork. Their responsiveness was fantastic," said Kalpana and Prasanna.
Within two weeks of approval by the MTOP, the family, including six-year-old daughter Avika, made the journey to Jacksonville arriving on March 11. Heather Oakley, LCSW, OSW-C, director of social services and pediatric oncology social worker, helped arrange housing and transportation making the experience easy. "They organized for us to get picked up at the airport. They took us directly to Walmart to shop. We had everything in hand," Kalpana said. She was delighted to learn about the loan closet at the Institute where she found everything from a tea kettle to an X-box complete with games to entertain the children. "You don't have to feel like you need to bring everything from home," said Kalpana.
Prasanna said that because of the support network at the Institute, families should not be afraid of being out of their comfort zone if they need to travel for treatment, especially when you want to give your child the best treatment possible. "If the fear is you have to go to the other side of the world, it's not daunting because the support network is here." Kalpana added, "We actually felt like we were at home."
Arjun has not had any acute side effects while having proton therapy. His neurological evaluation indicates that he is in the top percentile for his age with no loss of cognitive function, his parents said. He has Skyped with his teacher in Australia to keep up with his studies, and is preparing for a national level exam in May. Kalpana said he's taking good care of himself, making sure to eat healthy foods and to exercise – his favorite is swimming the freestyle stroke and the backstroke – doing everything he can to get well. She said, "He's an old soul in a young body. He's a very motivated child with a fighting spirit, and UF Proton and their wonderful, amazing team have ensured Arjun receives the best."
The family enjoyed participating in the many activities hosted by the social services team at the Institute, including Family Fun Night, support groups and outings to shows and theme parks. Jennifer Duncanson, MS, CCLS, child life specialist, was excellent and supportive and helped organize all tickets. Staying active and connected helped the family keep a sense of normalcy said Prasanna.
Kalpana said the art table in the lobby staffed daily by artist-in-residence Pamela Gardener was especially beneficial. Arjun said, "Everyone is very friendly. Pam entertains me and makes me happy every time I come here." Kalpana and Avika also enjoyed the art table, and Kalpana said talking with Pam and doing the projects helped her to not be anxious or stressed.
"If you want to feel like you're at home and get the best holistic treatment for the whole family, come to UF Proton," said Kalpana.