A Hollywood Ending for Five-Year-Old U.K. Patient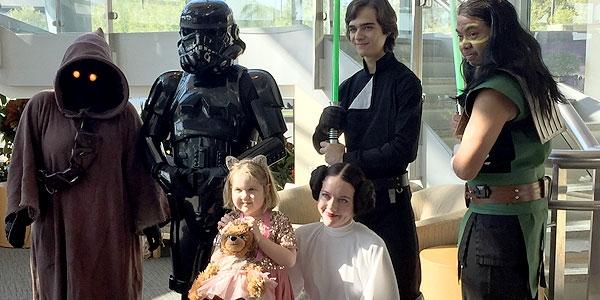 By Theresa Edwards Makrush
"The Force" was with five-year-old Lila Everest as she rang Aud's Chime March 21 signifying her successful mission to complete 30 proton therapy sessions for a brain tumor. Lila's mom Karen Steel arranged for Star Wars reenactors to be there on Lila's chime-ringing day. Karen met the Squad 7 members of the 501st Legion at a February screening of the classic film Star Wars: A New Hope with the music score performed live by the Jacksonville Symphony Orchestra. Karen thought it would be the perfect way to help her daughter celebrate because Lila is a Star Wars fan.
According to Lila's dad Tim Everest, her love for the Star Wars franchise began when she first watched The Empire Strikes Back. Since then, she has adored each of the movies and has become a huge fan. While in Florida, the family visited Disney World three times, the highlight each time being the Star Wars area of Disney's Hollywood Studios. Tim recounted how Lila was delighted to interact with the characters, including a light saber battle with the villain Kylo Ren, whom she defeated, as well as one-on-one time with robot BB-8 and her favorite Chewbacca. 
With the help of child life specialist Jennifer Duncanson and the radiation therapists, Lila was able to do her treatment without daily general anesthesia. To help her cope, Lila's parents would tell her Star Wars jokes and trivia to share with the radiation therapists who in turn would share other Star Wars facts. Even the mask used to help her head stay in position during treatment was painted with the face of the famed robot character R2-D2. "Everyone's been so kind, the therapists especially," said Karen. "Even though some days are quite dark."
The family made a donation to the artists-in-medicine program in the name of the reenactors group as a thank you. Tim said the arts table was a welcome diversion for Lila, especially on days she didn't want to go to treatment.
Lila will celebrate her sixth birthday at the end of March at her home in Brighton in the United Kingdom.