Caregiving: A Spouse Reflects on "Being Present" During Cancer Treatment
By Barb Hart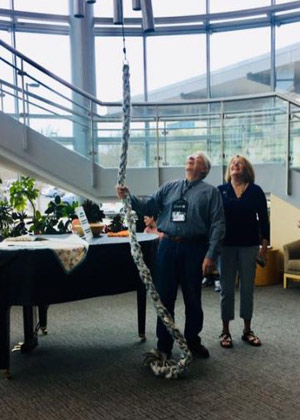 On November 15, 2018, my husband was diagnosed with esophageal cancer. I, of course, went online and this is one of the first sentences I saw: "Esophageal cancer is the sixth most common cause of cancer deaths worldwide." It was not a good day.
Stew is fortunate. His cancer was caught early before he had any symptoms. Also, while we live on a boat and have sailed all over the Caribbean and across the Atlantic, we are currently living in St. Augustine and have very dear (and very smart) friends who work in medicine in Jacksonville. Consequently, we knew about the UF Health Proton Therapy Institute and were quickly referred to Dr. Michael Rutenberg, who has experience treating esophageal cancer and who is simply a wonderful person. (One of many wonderful people who work at Florida Proton.) With referrals to an oncologist and to a surgeon, we were off on this adventure.
On December 26, Stew had the first of 28 proton therapy treatments. In addition, every Friday we visited another facility where Stew had chemo. As I write this, we are waiting for tests prior to (we hope) surgery. It won't be fun, but all of his physicians have been encouraging and we have reason to be hopeful.
What makes Florida Proton different? There's a level of caring that goes beyond what happens in the treatment or exam rooms. There is an expectation that every single person at Florida Proton is pulling for both the patient and the caregiver and it slowly dawned on me that every single patient and caregiver we met felt they were all receiving special treatment, and we were. We were noticed. We may be part of a club that no one wants to join, but at Florida Proton that club is a team with a common goal.
The main lobby, the chimes, the art table, the puzzles, the Wednesday lunches, plus the attitude of the entire team at Florida Proton combine to provide a safe space for the patients and their caregivers to gather and chat and get to know each other. That interaction with other patients and caregivers is comforting and healing. It gives some of us a chance to help and others a chance to let go. Frankly, I had expected to take my laptop and get work done, but that's not what happened. First, they don't give out the Wi-Fi password at all and that's a good thing. I didn't need to write, or email, or text, or do research. I needed to be present for Stew, our fellow travelers, and myself.
I believe he was the only person undergoing treatment for esophageal cancer at that time and I know I caught a few pitying looks from other caregivers when they learned why we were there. That was difficult for me until I looked around and saw others who were more seriously ill than Stew, and still others who had traveled from other countries with a sick child. We are fortunate. In some way, we were all fortunate. Our team of two was supported by everyone who works at Florida Proton and by many of the other patients and caregivers. I hope we gave something back to them, as well.