Gifts That Keep On Giving
By Theresa Edwards Makrush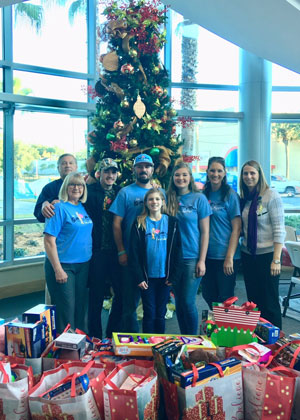 Each December, The Players Championship Lobby at the UF Health Proton Therapy Institute is transformed into the North Pole to help children who are on treatment, and their families, experience the joy of the holiday season. And thanks to the generosity of two very special patient alumni and their families, the celebration is even more meaningful.
Hundreds of the gifts distributed to pediatric patients and their siblings during the party were donated by The Believe Foundation. The charity started out in 2014 when seven-year-old Carolina Parson who was on treatment for a brain tumor, and her sister Nicole opened up their piggy banks to buy presents for other children who were on treatment or in the hospital during the holidays. Their brother Michael and their parents Kris and Tabitha chipped in along with family, friends and others in the community. That year, and every year since, they have raised thousands of dollars and donated presents. In addition, The Believe Foundation has over the years delivered Mothers' Day gift baskets to mothers of children who are on treatment, helped a girl who was on treatment during her birthday have a memorable encounter with a "princess," and donated countless Band-Aids, grocery gift cards, iTunes gift cards, high chairs and other items that are needed by the pediatric program. They raise awareness of childhood cancer, collect donations and provide support to families. Some of their fundraisers include the Ride Down Childhood Cancer Rodeo, a car show and The Believe Foundation Invitational 5K.
The gifts at the "Polar Express" Party, as the annual celebration is called, are distributed to each child and their siblings by Santa Joe McGee. He started as a professional Santa Claus following his own treatment for cancer at the Institute. Inspired by the children he saw who were dealing with cancer and by his late brother who was the "original" Santa in the family, Santa Joe has been a welcome addition to the party since 2013. His wife Dawn has joined the fun, and now appears as Mrs. Claus. Not only do Joe and Dawn give their time, they also use his other professional Santa appearances to raise funds for the pediatric program. This year Joe and Dawn donated more than $16,500.
"The tremendous impact made by the Parson family through The Believe Foundation and Joe McGee through his Santa appearances cannot be overstated," said Stuart Klein, executive director of the UF Health Proton Therapy Institute. "We are tremendously grateful for their generosity to help improve the proton therapy experience for our pediatric patients. And we are profoundly humbled to be part of Carolina's and Joe's cancer journey."
Want to see what it's like at the party? Take a look at this news clip from WJXT-TV 4's River City Live.