Steven Fitzgerald: Patient One in Proteus®ONE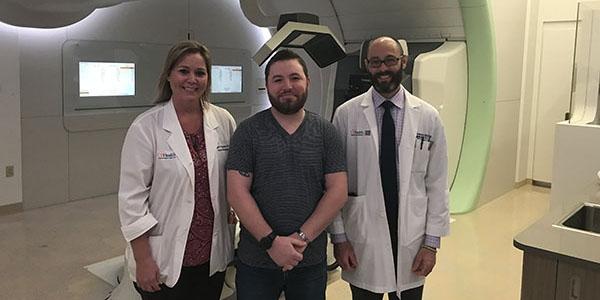 Steven Fitzgerald is optimistic. He's feeling pretty great and pretty lucky, so far. As of December 5, he's halfway through a course of proton therapy, delivered with pencil beam scanning at the UF Health Proton Therapy Institute in Jacksonville to put an end to a stubborn brain tumor.
His craniopharyngioma was first diagnosed in 2014 and treated with surgery near his home in New York. At that time, his physician said there was a chance the tumor could grow back. Steven researched treatment options and learned that the UF Health Proton Therapy Institute in Jacksonville, Florida, has excellent success rates treating this type of tumor. Taking matters into his own hands, he moved to Ocala, Florida, in October 2015 with his wife and newborn daughter to be near the Institute should the tumor recur. His parents moved to Palm Coast, Florida, to be nearby, too.
In August, Steven began experiencing symptoms, including vision loss. He immediately went into surgery at UF Health Shands Hospital in Gainesville, Florida, to remove the tumor that was pressing on his optic nerve. After a short recovery period, he started proton therapy in Jacksonville in November, commuting from his parents' home for daily treatment. On the weekends he goes home to Ocala to see his wife and now 4-year-old daughter.
On December 9th, Steven was the first patient to be treated in the Institute's new gantry – a Proteus®ONE single-room proton therapy system installed in a 10,000-sq.-ft. expansion of the facility. He is scheduled to complete his course of proton therapy on December 26 with a high degree of confidence and hope that the tumor never returns.