Patient Treatments Begin in Proteus®ONE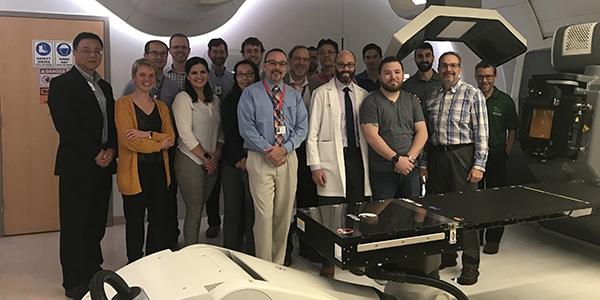 The UF Health Proton Therapy Institute began treating patients this month in the new, single-room proton therapy system – known as the Proteus®ONE manufactured by IBA – that was installed last fall. It is the centerpiece of a multiphase $39 million expansion and upgrade project started in 2016 that improves treatment efficiency and technology.
The 10,000-square-foot expansion includes both an accelerator, used to speed up the protons, and a treatment gantry equipped with pencil beam scanning – an advanced delivery technique.  The facility now has five treatment rooms – four gantries and one fixed beam room – and two accelerators used to speed up the protons – a synchrocyclotron dedicated to the new treatment room and a cyclotron that powers the original four treatment rooms.
Phase 3 will begin soon and involves the installation of a dedicated pencil beam scanning nozzle in one original gantry. Once completed, estimated in 2021, the Institute will have all five treatment rooms in operation and the ability to treat 25 percent more patients.
The addition of pencil beam scanning enables the treatment of more types of cancer using a thin beam of protons that is steered one layer at a time to conform to the exact shape, size and depth of the treatment area. The Institute has one of the most versatile proton therapy systems in the world. Each delivery technique – double scattering and pencil beam scanning – enables physicians to use the optimal treatment delivery customized for each patient.
Proton therapy is an advanced form of radiation therapy that uses protons rather than traditional X-rays. It targets tumors and cancer cells more precisely. This means less damage to surrounding tissue which results in a lower risk of side effects and a better quality of life during and after cancer treatment.
The UF Health Proton Therapy Institute is the regional resource for proton therapy. It has been open in Jacksonville since 2006 and has delivered 288,000 proton treatments to more than 8,500 cancer patients from Jacksonville and 33 countries.