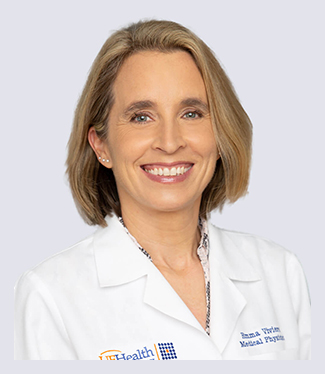 Emma Viviers, MSc
Physicist
Emma Viviers is a treatment planning medical physicist at the UF Health Proton Therapy Institute.
She graduated from the University of Surrey in the UK and moved to the USA to do research in the use of high field MRI to assess spinal cord injury and repair in the department of Biochemistry and Molecular Biology. She then moved to the Department of Radiation Oncology to do research in the role of oxygenation in radiation oncology.
Emma moved to South Africa, where she became board certified and obtained her master's at the University of Pretoria. There, she discovered a passion for clinical medical physics and teaching. Emma was the primary medical physicist for four radiotherapy centers. In addition to EBRT and HDR brachytherapy, she performed more than 700 prostate seed implants as a consultant. She served on the board of the South African Association of Physicists in Medicine and Biology. In this role, she chaired a team to develop quality assurance standards, which were adopted nationally by the Department of Health.
In 2015, Emma moved back to the USA with her family to join the team at UFHPTI. She completed her structured mentorship here, to obtain board certification from the American Board of Radiology in Therapeutic Medical Physics. In this position, her focus is providing dosimetry support, linac quality assurance, in vivo dosimetry, SRS/FSRS planning and LDR brachytherapy. Through automated nomenclature standardization and data retrieval, Emma has set up ProKnow software to enable big data analysis of more than 2,000 pediatric patients.
Emma is on the AAPM Task Group 263U to implement standardization nationally. Her interest in scripting workflows in Mim have allowed her to implement Contour Protégé artificial intelligence in the clinic to facilitate automated contouring. Her passion continues to be in clinical medical physics and in mentoring future residents in this specialty.
Certification
Board Certification
Therapeutic Medical Physics – American Board of Radiology
Education
Residency – Therapeutic Medical Physics
University of Florida Health Proton Therapy Institute, Jacksonville, FL
Master's - Medical Physics
University of Pretoria, Pretoria, South Africa
Bachelor of Science – Physics with Medical Physics
University of Surrey, United Kingdom
The focus of Emma Viviers' research is the standardization of patient image information to enable big data analysis, through scripting and artificial intelligence.
What does your work at UF Health Proton Therapy Institute mean to you?
"I enjoy working at UFHPTI as the diversity of treatment options provides a continually challenging environment. I love working in a team which is dedicated to the advancement of radiation therapy and quality patient care."
Find Dr.Viviers's publications through PubMed*
*Please note, the resulting PubMed entries may not reflect a complete or accurate listing for faculty members. Many journals are not indexed by PubMed, and there may be articles by other authors of the same name listed for each search.