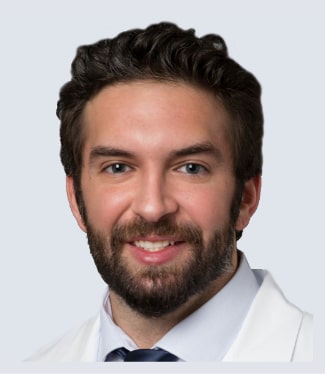 Eric Brooks, MD, MHS
Physician
Dr. Brooks is a Board Certified Radiation Oncologist and Assistant Professor in the Department of Radiation Oncology at the University of Florida, working at the UF Health Proton Therapy Institute. He has twice been formally recognized by colleagues for providing excellent patient care, among other honors received for his research and work in medicine.
"Getting a cancer diagnosis can be frightening, and it can be confusing," said Dr. Brooks. "I'm here to listen to my patients' concerns, to help them understand the disease and their options for treatment, and to be a partner on their journey to becoming a cancer survivor." 
As UF's Faculty Liaison for Operations (FLO), Dr. Brooks also advocates for better patient access – working to improve procedures for health insurance prior authorization and billing at the Proton Center. 
"Finding ways to improve the complicated insurance authorization and billing process ultimately makes it easier for patients to get the optimal treatment for their specific disease," he notes. "It's very rewarding to see how working with our team to improve access directly and positively impacts our patients." 
Dr. Brooks graduated valedictorian from Cornell University before pursuing his medical degree at Yale School of Medicine. He completed his training at Memorial Sloan Kettering Cancer Center and MD Anderson Cancer Center. 
In addition to his primary focus of providing cutting-edge treatment through his expertise and patient commitment, Dr. Brooks has published more than 50 peer-reviewed articles in publications including the well regarded Nature, JAMA, and JCO family journals. He has been an invited speaker to the American Society of Clinical Oncology (ASCO), and published society-endorsed guidelines on how to treat patients when their tumors recur. Much of his work includes interest and investment in treating patients when their tumors come back (also known as "salvage therapy").
Certification
Board Certification
Radiation Oncology – American Board of Radiology
Education
Residency – Radiation Oncology
MD Anderson Cancer Center (MDACC), Houston, TX
Internship – Radiation Oncology
Memorial Sloan-Kettering Cancer Center (MSKCC), New York, NY
Medical Degree, Master of Health Science
Yale School of Medicine, New Haven, CT
Bachelor of Science – Human Biology, Health and Society
Cornell University, Ithaca, NY
Dr. Brooks conducts research in the areas of breast cancer, lung cancer and lymphoma. He has published more than 50 peer-reviewed publications, many of which focus on improving treatment outcomes in the salvage setting. Dr. Brooks is also interested in research related to the insurance approval process for therapy for cancer. His research has been published in the International Journal of Particle Therapy, the Journal of Thoracic Oncology and International Journal of Radiation Oncology, Biology, Physics.
Active Research Studies
Improving Breast Radiotherapy Setup and Delivery Using Mixed-Reality Visualization
Prospective Pilot Cohort Study of Tracking Circulating Tumor DNA in Women Receiving Neoadjuvant Chemotherapy for Breast Cancer
Prospective Trial of Regional Nodal Irradiation for Women with Residual Breast Disease after Neoadjuvant Chemotherapy
 
USC Gould School of Law Merit Scholarship Award
USC, California (2021-2022)
Jeffrey Lee Cousins Fellowship in Lung Cancer Research
MD Anderson Cancer Center (2020)
The A. Lavoy Moore Endowment Fund for Lung Cancer Research
MD Anderson Cancer Center (2017, 2019)
Resident Research Award
Gilbert Fletcher Society (2018)
Awesome Job Award, Patient Care
MD Anderson Cancer Center (2017-2018)
NIH CTSA-TL1 Fellowship
National Institutes of Health (2013)
Valedictorian, Graduation Speaker, Banner Bearer
Cornell University College of Human Ecology (2010)
Merrill Presidential Scholar
Cornell University (2010)
Alumni Association Annual Grant
Cornell College of Human Ecology (2009)
President Emeritus Frank T. and Rosa Rhodes Scholarship Award
Cornell University (2009)
Howard Epstein Scholarship
Cornell Club of Washington Scholarship (2008-2009)
Heart and Vascular Institute Young Researcher Award
Inova Fairfax Hospital (2008)
Two-time Nominee for James E. Rice Academic Writing Award
Cornell University (2007-2008)
What does your work at UF Health Proton Therapy Institute mean to you?
"For me, being a good physician means treating the person, not just the disease. Of course, I am always studying cutting edge treatments and advances in oncology and proton therapy, continually improving my skills; that is essential and I enjoy it.  But what I most enjoy is taking the time to learn about each person and helping them through every aspect of their care from the moment they walk through the door. I truly believe that everyone's cancer diagnosis is unique and that means each person needs a unique treatment. I am grateful to those who entrust me to care for them every day. UFHPTI is such a special place, with the best environment, that allows me to achieve such an incredible high quality of care."
Find Dr. Brooks's publications through PubMed*
*Please note, the resulting PubMed entries may not reflect a complete or accurate listing for faculty members. Many journals are not indexed by PubMed, and there may be articles by other authors of the same name listed for each search.
Patient Reviews
Overall Rating (106 reviews)
Comments (5 newest)