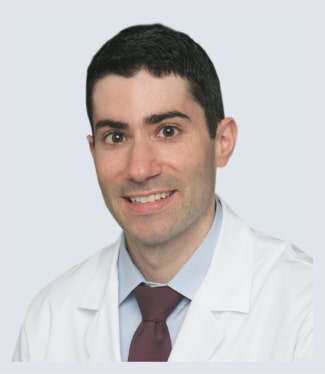 Adam L. Holtzman, MD
Physician
Dr. Adam Holtzman is an Assistant Professor in the Department of Radiation Oncology in the University of Florida College of Medicine. An established researcher, he has had more than 35 articles published in peer-reviewed medical journals and has presented at more than 45 national and international conferences and organizations. He continues to be invited to present his research and provide educational talks both professionally and to the community.
Dr. Holtzman has received multiple awards in recognition for his dedication to clinical care, compassion and research. He was inducted into the Gold Humanism Honors Society and received the Outstanding Resident Educator Award during his time as Chief Resident at the University of Florida Radiation Oncology Department. In 2022, Dr. Holtzman was appointed to lead the International Journal of Particle Therapy's editorial team as the Operations Editor and works in collaboration with Editor-in-Chief, Nancy P. Mendenhall, MD, FACR, FASTRO, on journal direction and production.
Certification
Board Certification
Radiation Oncology – American Board of Radiology   
Education
Residency - Radiation Oncology Department
University of Florida College of Medicine, Gainesville, FL
Internship – Internal Medicine
University of Florida College of Medicine, Gainesville, FL
Medical Degree
University of Florida College of Medicine, Gainesville, FL
Bachelors of Science - Biological and Medical Sciences
University of Florida College of Arts and Sciences, Gainesville, FL
Dr. Holtzman has a strong interest in conducting research on the role of proton radiation therapy for brain cancers, specifically chordomas and chondrosarcomas. His research has looked at determining which patients may have the best rate of overall survival following radiation treatment. Dr. Holtzman has also researched how the experience of a treatment center affects the outcomes of patients treated including how to make therapy safer and more effective.. He has had research published in well-known journals including Radiotherapy & Oncology, International Journal of Radiation Oncology Biology Physics, and Journal of Neuro-Oncology. As the Operations Editor of the International Journal of Particle Therapy, Dr. Holtzman facilitates the peer-review and dissemination of the latest research related to proton therapy.
Active Research Studies
Risk Adapted De-Intensification of Radio-Chemotherapy for Favorable Prognosis Oropharyngeal Squamous Cell Carcinoma based on HPV subtype and plasma circulating free HPV DNA Level and Clearance Rate 
Outstanding Resident Teacher Award
University of Florida College of Medicine (2018)
Radiation Oncology Chief Resident
University of Florida Department of Radiation Oncology (2017-2018)
Gold Humanism Honor Society
Gold Foundation (2017)
Best of ASTRO 57th Annual Meeting
American Society for Radiation Oncology (2015)
Honors in Medical Research
University of Florida (2013)
Fellowship Program in Addiction Medicine
The Annenberg Physician Training Program (2009)
Junior Honors Accelerated Medical Program
University of Florida (2008)
Weinberg Undergraduate Research Grant
Northwestern University (2008)
Dean's List
Northwestern University (2006-2008
Find Dr. Holtzman's publications through PubMed*
*Please note, the resulting PubMed entries may not reflect a complete or accurate listing for faculty members. Many journals are not indexed by PubMed, and there may be articles by other authors of the same name listed for each search.
Patient Reviews
Overall Rating (114 reviews)
Comments (5 newest)